Skiing: Hirscher again
Young Austrian wins again to close gap on Kostelic
Last Updated: 19/02/12 2:12pm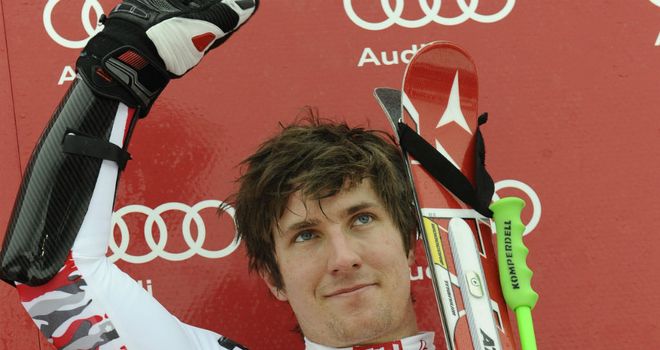 Marcel Hirscher made it a weekend to remember when he won the World Cup slalom event in Bansko to add to the giant slalom he won on Saturday.
The young Austrian took his tally for the season to eight victories to strengthen his position in the overall standings.
The 22-year-old is now only 18 points behind injured Croatian Ivica Kostelic in the overall World Cup standings and a parallel slalom in Moscow on Tuesday evening could help him take the lead.
Hirscher recorded a combined time of one minute and 52.64 seconds, leading after the first run before beating veteran compatriot Mario Matt by 0.16 seconds.
However Matt, who had won Bansko's inaugural slalom a year ago, was subsequently disqualified which left Sweden's Andre Myhrer in second place and Italy's Stefano Gross in third.
Hirscher also progressed in the slalom World Cup standings, now trailing Kostelic by only 35 points in the discipline.
The Croat, who underwent knee surgery last Monday, is not expected back in action before March 10 for two technical races in the Slovenian resort of Kranjska Gora.
Hirscher admitted he was feeling the strain after a long season, although his decision to miss teh last two weeks of competition paid off.
"I have strengths and resources in me which I didn't suspect, but I'm also tired," he said.
"It's a long season and long days, like yesterday, with the press conference and the medal ceremony. I was not aware of how much energy it takes out of you."
Hirscher said he was considering taking part in super-G in a bid to secure more World Cup points.
"I trained in super-G in Schladming and I was doing alright. We'll see. I don't want to overdo it because I must also think about the giant slalom World Cup which is within reach," he said.