Super eight named
Glasgow Wildcats drop out of new-look top league
Last Updated: 12/08/11 3:26pm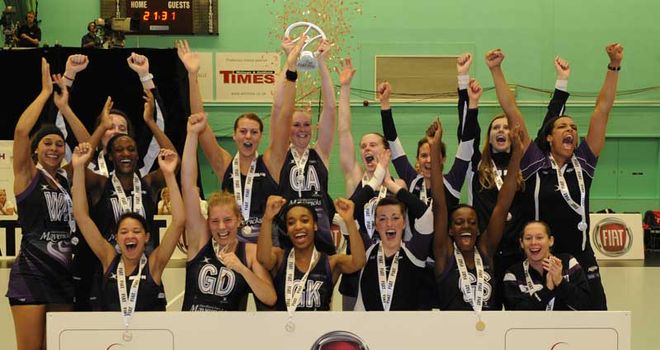 Hertfordshire Mavericks celebrate winning last year's Grand Final
England Netball has announced the eight franchises that will play in the FIAT Netball Superleague in the 2012 season.
The successful applicants are Celtic Dragons, Hertfordshire Mavericks, Loughborough Lightning, Northern Thunder, Surrey Storm, TeamBath, Team Northumbria and Yorkshire Jets.
England Netball chairman, Cheryl Danson said "England Netball is delighted to announce the eight franchises that we believe will support the England Netball performance objective of becoming number one in the world.
"It is regrettable that Glasgow Wildcats lose their place in the competition, and that the Birmingham based application missed out on the final eight; however, we wish all successful franchises the best of luck for the 2012 season and beyond."
Chief Executive, Paul Clark added "After an intensive application and review process, England Netball firmly believes that we have the right franchises to lead us forward.
Committed
"England Netball is committed to working alongside all franchises to develop the game, the competition and most importantly the development of the athletes, who are the present and the future of the England National team."
The eight teams will be awarded four-year agreements with a review after two seasons. This review will be against set criteria within each individual franchise's development plan.
Superleague General Manager Andy Crook added: "This is a pivotal moment in the competition. In conjunction with England Netball, all franchises will undergo a period of development and we can now move full steam ahead with other, exciting initiatives that are being put in place to ensure that Superleague 2012 is the best yet.
"To start this process, fixtures for the first stages of the league will be announced in the next couple of weeks."
The season gets underway on the weekend of January 21, with the Grand Final Weekend on May 19 and 20.