Second win for England
Barbados beaten while Northern Ireland guarantee themselves a top-eight finish
Last Updated: 06/07/11 7:41pm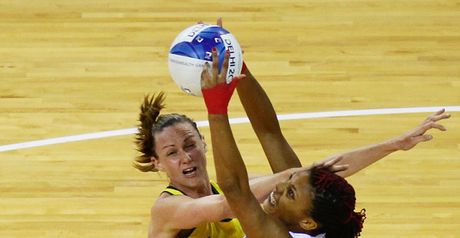 Mkoloma: To the fore early on
England scored their second straight win at the World Netball Championships after beating Barbados 74-42 in Singapore.
Although England made a strong start and went 25-6 ahead in the first quarter, things did not run quite so smoothly after that as changes failed to gel.
Quarter-finals
England v Northern Ireland
Australia v Malawai
New Zealand v South Africa
Jamaica v Trinidad and Tobago
The defensive combination of Sonia Mkoloma and Geva Mentor were to the fore early on, but Barbados then stepped up to the challenge with Goal Shoot Lydia Bishop sinking 23 of 33 goals.
In other matches, Northern Ireland guaranteed themselves a top-eight finish for the first time in history on Wednesday after a 66-37 win over Samoa.
That result came 24 hours after they had lost 75-33 to Australia, who scored over 20 goals in both the first and second quarters before being evenly matched.
Norhern Ireland will face England in the quarter-finals.
Also on Tuesday, world number one side New Zealand went 28-2 up in the first quarter of their game against Wales before going on to score a 91-21 victory.