Opening success for England
Harten and Brownfield lead the way
Last Updated: 05/07/11 8:20am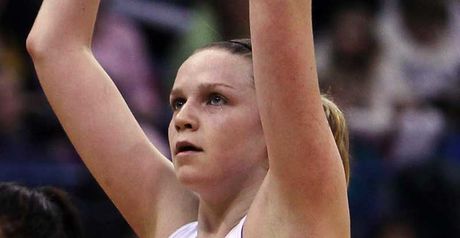 Harten: Deadly shooting
England got their World Championship challenge underway with a comfortable 65-33 victory over Malawi.
Joanne Harten led the way for England as she scored 22 goals from 24 shots, during her half on the court.
Louisa Brownfield, who replaced Harten at the interval, also impressed with 21 goals from 24 attempts as England overpowered their rivals.
Malawi had started the match strongly, going toe-to-toe with the world's third-ranked side.
However they couldn't match the pace and desire of Sue Hawkins' side - despite the best efforts of Mwayi Kumwenda, who scored 26 of Malawi's points.
Northern Ireland overcame a scare to beat Sri Lanka 65-56, with Noleen Lennon scoring 50 goals.
However Wales suffered an opening day defeat as they lost 51-48 to Trinidad and Tobago.
New Zealand and Australia - England's main rivals for the title - were convincing winners as they thrashed Fiji and Samoa respectively.