Breaking the ice
Day four: Birmingham to Crewe
Last Updated: 11/07/12 5:42pm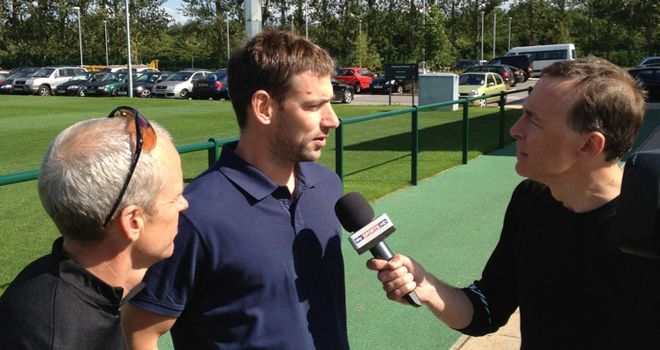 Julian does the honours with Rory Delap
Sky Sports News presenters Rob Wotton and Julian Waters are cycling 400 miles in a week to raise funds for Rett Syndrome Research Trust UK.
The dynamic duo left St James Park, Exeter on Sunday and hope to reach St James' Park, Newcastle on Saturday July 14.
Read below for Rob's highlights of day four, which included an ice bath for Julian and a terrible headwind!
We finished a bit earlier today which was great. It was a long day as we had a big headwind and we needed to really motor to get to Stoke City's training ground. We were met by their Chief Executive Tony Scholes. Rory Delap was also there and he convinced Julian Waters to get into an ice bath.
I pretended to get into one but I bottled it at the last moment but Julian says it has done him the world of good and I will be the one suffering on tomorrow's leg. We shall see as I will be jumping into the Jacuzzi as soon as we get to the hotel! We have been staying in some great hotels and I must thank MalMaison for looking after us so well.
The response has been great and we have been overwhelmed by everyone's well wishes and generosity. While Julian and I are enjoying the challenge we are not forgetting why we are doing this challenge and how much we want to help those who suffer from Rett Syndrome.
It is really nice to get some encouragement and it is nice to know that we are doing some good.
Today at lunch time we reached the half-way mark as far as mileage is concerned - I said to Julian that it must be downhill all the way from here as the first half has felt like it is all uphill. He just sighed, shook his head and went off ahead of me...again!
Apart from the headwind there has also been a lot of rain, in fact we went along some back routes today that were very muddy - at one stage we were up to our ankles in muddy water which was not fun.
Tomorrow we will be heading for Manchester which will be about 65 miles. Hopefully the headwind would have died down.
We are expecting to see a few people on the route though - hopefully Ian Dowie, Clare Tomlinson and Rachel Wyse will join us. To top it all off Lee Briers should be meeting us at the finish line! I'm sure the Warrington Wolves star will know a thing or two about battered and bruised legs - let's hope it's not another ice bath!
To support Rob and Julian please visit www.justgiving.com/cyclefordylan. If you have a couple of minutes to spare, please visit www.curefordylan.com for more information on Dylan and Rett Syndrome
For more details on our route please visit: Lovevelo.co.uk