NBA: Celtics one win away
Boston claim third straight win over Heat to take charge of series
Last Updated: 06/06/12 7:51am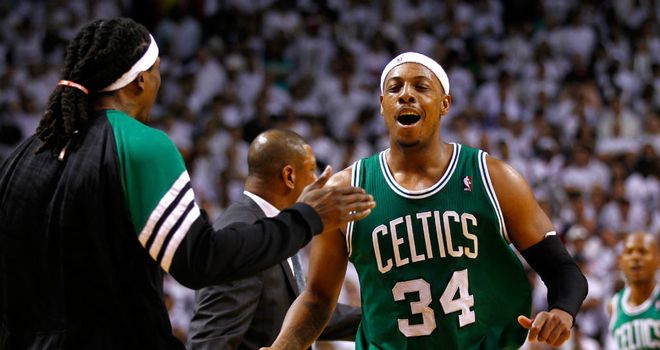 Paul Pierce: Scored crucial three-pointer late on
The Boston Celtics moved 3-2 ahead in the Eastern Conference finals after recording a third straight victory over the Miami Heat.
The Celtics had dropped the first two contests of the seven-game series but are now just one game away from the NBA Finals after beating the Heat 94-90 at AmericanAirlines Arena in Miami.
Kevin Garnett led the way with 26 points and 11 rebounds, while Paul Pierce scored 19 points - including a crucial three-pointer late on that opened the decisive four-point advantage.
Miami star LeBron James notched 30 points and 13 rebounds but could not prevent himself from ending up on the losing side.
James' efforts did tail off in the final quarter, while team-mate Dwayne Wade's 27 points also proved ultimately to be in vain.
The Heat must now win game six takes, which takes place on Thursday, to avoid being eliminated from the play-offs.
"You have to go back to your corner right now. We all just have to huddle up and lean on each other. We're the only people we can depend on right now and that can be a powerful thing," Heat coach Erik Spoelstra said.
"All we have to do is focus on winning game six, then all of a sudden, bang, that momentum changes again."