Hickstead Derby: how to ride showjumping's toughest course
Former international showjumper and Sky Sports commentator Andy Austin says you must 'know your horse inside out'.
By Andy Austin. Last Updated: 25/06/14 2:50pm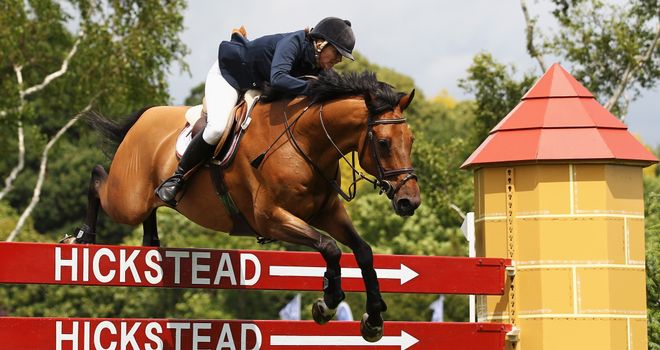 Hickstead Derby: all the thrills and spills live on Sky Sports
Preparation
You have to make sure you've trained for the Hickstead Derby. If your horse hasn't ever been around the course it is certainly not going to have seen a Devil's Dyke, a double of ditches, or Bank before; they're completely different to any fences you find elsewhere. You need to practice these obstacles otherwise your horse will be in total shock at first encounter.
You must also make sure your horse is extremely fit and certainly not carrying any excess weight - whether the riders go through the same rigorous fitness regime I'm not so sure...
Also, you need to pick and choose your shows in the weeks leading up to it. The type of competitions make a difference - you certainly don't want to be doing speed classes because the horse will get flat and quick in its jump. You need to prepare the horse to jump clear; the fences are pretty big and it's not a race against the clock. Your ride needs to be up in the air the whole way round.
It's such a tricky class, the horse needs to be brave enough to jump the new and spooky fences but careful enough to stay clear - that's what makes it so amazing to watch.
The Equestrian.com Derby
Live on Sky Sports 1 from 1.30pm, Sunday 29th June
The fences
Coming down the Bank is all about trust; you and the horse have got to know each other inside out. The trouble is, the first time you come down there you don't know how much pressure to put on the horse; if you override they'll rush down the Bank and it will be a disaster. You need to be able to sit quietly and allow the horse to travel down on his own without feeling pressurised. If you're on a green (novice) horse you probably need to put that pressure on and then they quicken and frighten themselves.
If you're in tune with your horse you can guess what he's going to do and the horse then has trust in you.
The Devil's Dyke is the technically most difficult of the 16 fences. The horses look down into the bottom of the jump and see the water and that takes their attention away from jumping the vertical going in. As the attention drifts they lose their rhythm and momentum and if you don't have that you're going to struggle to get the power to jump up the hill and get out of it.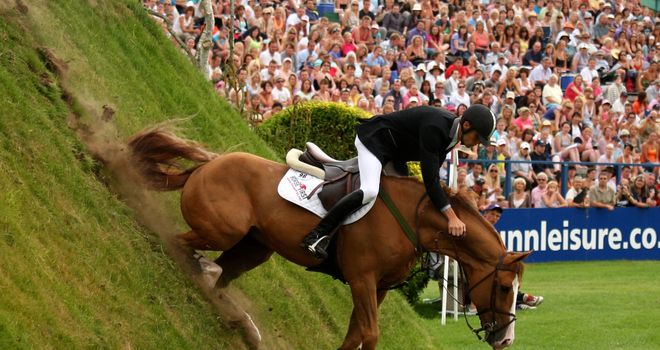 Jan Motmans riding Quick Chin Van de Elsenidam stuggles to hang on as he comes down the Derby Bank
Experience is everything with this fence. An old horse has seen it all before but you'd struggle to get a young horse to go straight through. We don't see fences like this anymore. In the old days we used to have derbies all around the country at Bicton and Wales and West and horses grew up jumping them - but now they don't. When I was jumping the Hickstead Derby you could do three or four other derbies within the year to get used to it. You won't see the precious Grand Prix horses, like Scott Brash's Hello Sanctos or Ben Maher's Cella here; this is for a different type of horse.
It's not just the famous fences that cause problems though. Towards the end of the course you reach the Derby rails straight after the horses have pelted it down to clear the 15ft-wide open water. They've also had to navigate the Bank, the Devil's Dyke and the open ditches, so by this point the horse is slightly tired, a bit disorientated and they've had a lot of pressure put on them; you've then got a 1.60m set of rails in front of you. The horse is heavy in your hands, off-balance and bit disorganised and though it's not the scariest, statistically it comes down a lot, as does the balustrades vertical down the hill. You'll see a lot of horses come to the water with just one or two fences down but the next thing you know it's three or four because the horse has tired and the pressure starts to tell. This is where fitness and staying in control becomes key to success.
Tina Fletcher tackles the white rails on her way to winning in 2011
The horse
It's nearly always an older horse who wins the Derby. When Tina Fletcher won it in 2011 on Promised Land he was around 18 years old, and Skip Two Ramiro - who was guided to victory by Guy Williams in 2010 - was 15 years old; these horses are mid-to-late teenagers with plenty of experience.
The Derby is not the sort of course for young horses but more for those coming to the end of their career who aren't phased by anything.
The rider
It's the usual suspects who should do well at this year's event. If you look at the history books, previous winners often do well and Tina Fletcher will be hoping she can repeat her success, as will Guy Williams. Then there's William Funnell; if he's in it you've got take him seriously - he's a master riding round the Derby and won it three-times between 2006-09 on Cortaflex Mondriaan.
The Hickstead Derby is kind of like the FA Cup or the Grand National; it's etched in the British sporting calendar and is something we've all grown up with. Any rider that's ever that's won it - a bit like the Foxhunter final at the Horse of the Year Show - is remembered because it's a classic.