WWE Raw: Arnold Schwarzenegger and Scooby Doo are in the house in Brooklyn, New York
WrestleMania rivals Undertaker and Brock Lesnar go face-to-face
Last Updated: 25/03/14 3:59pm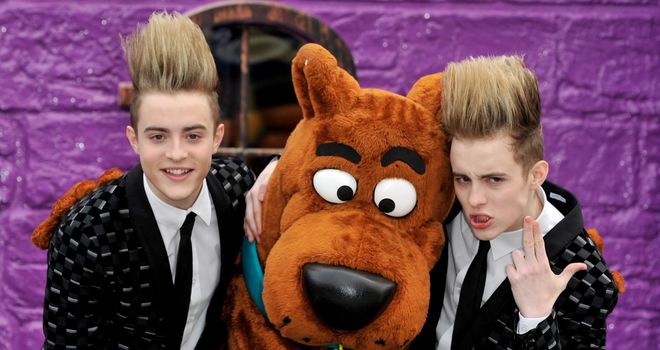 Scooby, Scooby Doo, where are you? I'm on Raw - without Jedward
The Undertaker is on Raw, Brock Lesnar is, too - and so is Scooby Doo!
The animated pooch can be seen in new movie Scooby Doo! WrestleMania Mystery, with the canine crime solver enlisting the help of John Cena, The Miz, Santino Marella and more to crack a good, old-fashioned whodunit.
But what will happen when Scooby, with the Mystery Machine in tow, ventures onto WWE's flagship show - and will any Superstars try to outfox the dog by masquerading as a ghost? Well, enough janitors have tried that trick in the past...
However, Scooby will not be the only A-list celebrity in the house on Monday night, as Arnold Schwarzenegger, yes, Arnold Schwarzenegger will be around, too, to promote new movie Sabotage.
The 38th Governor of California has been more focussed on politics in recent years, but he has been pretty adept at beating the proverbial out of people in his myriad action films, so will someone feel his force tonight?
Arnie may or may not utter his iconic catchphrases 'I'll be back' or 'Hasta la vista, baby', but here's what will, or is likely to, transpire when the red brand rolls into Brooklyn, New York...
- The Undertaker and Brock Lesnar go face-to-face
- The Shield seek revenge on Kane and the New Age Outlaws
- Daniel Bryan reacts to his vicious beating at the hands of Triple H
Don't miss WWE Raw, midnight, Monday (Tuesday) Sky Sports 2, or catch the repeat showing at 11pm, Thursday, Sky Sports 4.
WrestleMania XXX booking details
WrestleMania XXX will be shown on Sky Sports Box Office (channel 743) and Sky Sports HD Box Office (channel 752) at midnight on Sunday, April 6 (Monday morning).
WrestleMania XXX will be repeated on Sky Sports Box Office (channel 743) BUT NOT Sky Sports HD Box Office (channel 752) between 10am on Monday, April 7 and 10pm on Saturday, April 12.
Repeat showings will last for four hours.
The event is priced at £17.95 for UK customers, €24.95 for customers in the Republic of Ireland.
You can order WrestleMania XXX from Friday, March 28 by pressing the Box Office button on your remote. Select 'sports & events' and follow the on-screen instructions.
Viewers can call 08442 410 888 from Friday, March 28 to book WrestleMania XXX. (There may be an additional charge for telephone bookings).
You can also book WrestleMania XXX online from Friday, March 28 by visiting this link: https://my.sky.com/orderboxoffice/
Cable customers should contact their local cable operator.