Sky Sports News Radio
Online service brings you breaking sports news and interviews
Last Updated: 11/02/11 10:19am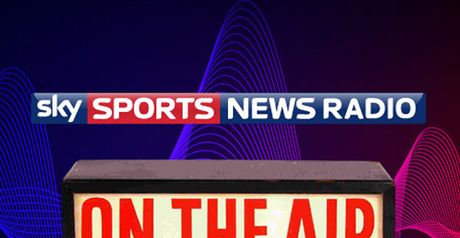 Welcome to Sky Sports News Radio - our online service bringing you breaking sports news and interviews.
SKY SPORTS NEWS RADIO
Click
here
to launch the Sky Sports News Radio player.
Backed by the journalists that have made Sky Sports News THE destination for sport, Sky Sports News Radio turns supertelly into great radio; what's more it is free to skysports.com users.
While other radio stations mix news and sport or rely heavily on phone-ins, we'll be broadcasting wall-to-wall sports news from the market-leaders - Sky Sports News.
Sky Sports News viewers will hear many similarities - from the familiar music and reporters to regular features such as Soccer Saturday. In addition, Sky Sports News Radio's dedicated journalists will bring exclusive reports and interviews on issues ranging from football to horse racing.
You can find Sky Sports News Radio by clicking here and if you download the Sky Sports News iPhone and iPad apps then you will be able to hear it there too and listen wherever you are.
When does it broadcast?
Sky Sport News Radio is broadcast live online everyday and is available 24/ 7. Non-Sky subscribers who can't view Sky Sports News can now hear it. What's more, they can do it from the comfort of their home or workplace.
Tell us more about the shows
The day kicks off with the Good Morning Sports Fans. As well as the latest news, interviews and previews we'll have a look at the Back Pages, preview the day's racing and the best betting opportunities and invite you to get involved via email.
First, Fast Now is our new morning show dedicated to breaking the big stories of the morning. With Sky Sports News At One there's a chance for office-based listeners to grab a bite and get up-to-speed at the same time.
In the afternoon update and evening report our Sky Sports News reporters will bring the latest stories and we'll have the very best build-up to the games.
It's not just about the football though. Sky Sports News Radio will be right on top of the cricket and Super League action. We'll also have reporters at a host of other sporting events from around the world.
Every weekend we'll bring a more exciting shows including Premier League Preview on a Friday and on the same day racing fans can also catch Blazing Saddles.
Can I listen to my favourite Sky Sports News shows?
Yes. You'll be able to listen to Soccer Saturday between 3pm and 6pm. And on Tuesdays and Wednesdays you'll be able to hear Soccer Special with Ed Chamberlain. On Saturdays and Wednesdays, listeners can also listen and interact with You're On Sky Sports as fans have their say on the big issues.
Introducing the team
In alphabetical order:
+ Dave Armstrong is our talented Audio Producer responsible for the sound of the station.
+ Chris Cooper, a former talkSPORT presenter and commentator, is a vastly experienced sports journalist.
+ Emma Dodds has worked at Setanta and most recently presented on Rangers.tv.
+ Jon Francis and Rob Mullarkey have national radio experience with TEAMtalk 252 while Stephanie Otty joins from Pulse where she was news editor.
+ Ben Ransom was news and sports editor at Rock FM in Manchester while David Reed was a Press Gazette Student Journalist of the Year winner.
+ Tim Thornton, with more than 1000 football commentaries under his belt, is Assistant Editor and like brother Jason Thornton also worked on TEAMtalk 252 as did Keith Turk
+ Tom White makes the move from Sky Sports News.
Click here to launch the Sky Sports News Radio player.