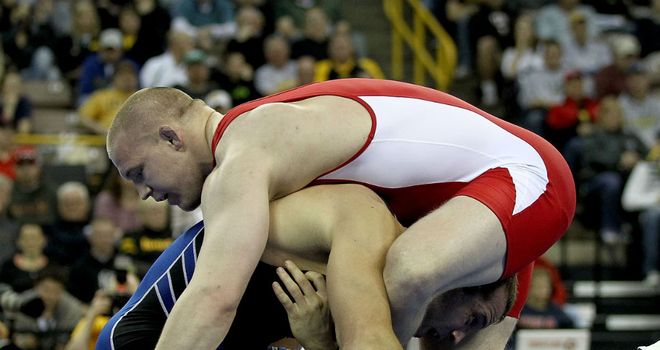 Jake Varner: Won gold for the USA after beating Ukraine's Valerii Andriitsev
Jake Varner became the second American wrestler to walk away from the ExCeL with Olympic gold and a cheque for $250,000.
Varner, who won bronze at last year's World Championships, beat Ukraine's Valerii Andriitsev in the -96kg freestyle final 1-0 1-0 to claim the final wrestling gold of London 2012.
The American got behind Andriitsev in the first period and did so again in the second to seal a narrow win.
Varner also takes with him a bonus of $250,000 (£159,000) courtesy of USA Wrestling, who offered the incentive to every one of their wrestlers prior to the Games.
Earlier this week Jordan Burroughs won gold for the States in the -74kg category to take home the huge cash prize.
Khetag Gazyumov of Azerbaijan claimed bronze when Reza Yazdani pulled out of one of the repechage finals after injuring his knee in the semi-finals.
Georgia's Georgi Gogshelidze won the other repechage final to also claim bronze.
Historic
Elsewhere, Japan won their first male wrestling gold in 24 years after Tatsuhiro Yonemitsu defeated India's Sushil Kumar in the final of the 66kg freestyle.
Kumar, a railway worker from Delhi, was looking to become India's first ever Olympic champion wrestler, but Yonemitsu overcame him 1-0 3-1 to record a historic win for Japan.
Yonemitsu edged a tight first period before sealing victory in the second after picking up Kumar and slamming him on the mat.
Mitsuru Sato and Takashi Kobayashi were the last two Japanese men to win wrestling gold in Seoul 1988. Their female wrestlers won three golds at London 2012.
Kazakhstan's Akzhurek Tanatarov and Cuban Livan Lopez Azcuy won bronze after coming through Sunday's repechage.