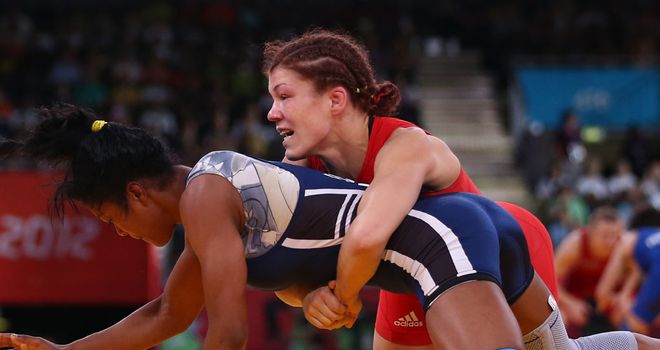 Olga Butkevych: Was eliminated at the first hurdle in London
Olga Butkevych's bid to become the first British woman to win an Olympic wrestling medal lasted just six minutes as she suffered an agonising first-round defeat.
The Ukraine-born wrestler had been expected to make the quarter-finals of the -55kg freestyle competition, but she lost 1-1 2-0 1-2 to Lissette Alexandra Antes Castillo of Ecuador.
The 26-year-old would have had a chance of a bronze medal through the repechage had Antes Castillo made the final, but the 21-year-old lost to Colombia's Jackeline Renteria in the last eight, meaning Butkevych was eliminated from the tournament.
Butkevych came to the UK from Ukraine in 2007 and was selected for the Olympic team after gaining British citizenship in May.
Despite being born 5,000 miles away, she received the loudest cheer of the wrestling competition at the ExCeL so far when she emerged.
The Salford-based wrestler, competing in her first Olympics, went 1-0 up after getting behind Antes Castillo, but the Ecuadorian caught the Briton off-guard and won the period.
Butkevych fought back to win the second period and then put herself on course for victory in the third until she was thrown off the mat with four seconds remaining.
Sorry
"I'm sorry, I'm sorry. It's my big competition, once every four years. I've been competing every year for the past four years," Butkevych said.
"But this year, the big year, I lost. I didn't feel pressure from the crowd, but I was proud to be there for them.
"There were so many people here to support me and I'm proud but sorry."
Butkevych is the only wrestler to make the Olympic team, and British Wrestling are therefore likely to have their funding cut because they have failed to meet their target of one top-eight finish.
Butkevych had to sweat off four kilograms to compete as there is no -59kg category in the Olympics and she feels that may have been one reason why she lost.
She added: "Maybe I've lost too much weight and she was too strong for me. I lost the challenge and I'm so upset.
"I'm disappointed. I felt like it was definitely my match and I should have won, but that's sport. I still don't know what happened. My body was shaking more and more."