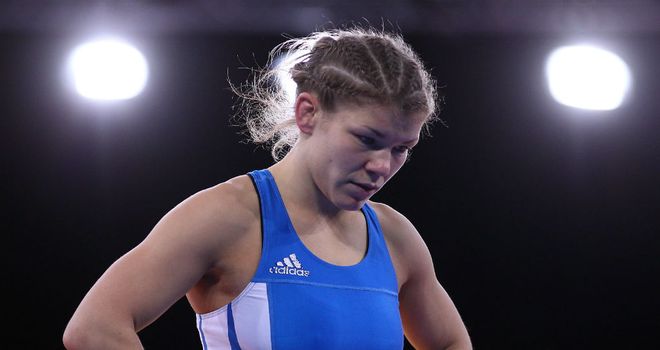 Olga Butkevych: Vowed to ignore any 'Plastic Brit' jibes
Wrestler Olga Butkevych has vowed to ignore any 'Plastic Brit' jibes that come her way during the Olympics and will instead concentrate on repaying her adopted nation by winning gold.
Despite being born 5,000 miles from London in Ukraine, Butkevych will be the only wrestler competing for Team GB at London 2012.
Butkevych, along with a number of other eastern European wrestlers, came to Britain five years ago as a sparring partner for homegrown athletes at British Wrestling's academy in Salford.
"I understand the debate but I'm trying to not listen to that. "
Olga Butkevych Quotes of the week
British Wrestling insisted that the foreign imports would not displace home athletes, but they performed a U-turn and allowed them to compete for Britain - a move which caused uproar in the wrestling community.
Many are angry that Butkevych, who only earned British citizenship this summer, will represent her adopted nation at London instead of homegrown wrestlers; however she insists she has every right to turn out for Team GB at the Olympics.
Debate
Butkevych said: "Too many people are talking about that.
"Some say I should be allowed to represent Britain, some ask what am I doing here. I understand the debate but I'm trying to not listen to that because in a lot of sports there is the same situation.
"People from different countries represent Great Britain. It's normal. I have seen it so many times, not just in wrestling."
British Wrestling came in for severe criticism last month when they had their Olympic allocation cut from three to one after a number of the elite squad failed to reach the standard required to make the squad.
Another Ukraine-born wrestler Yana Stadnik failed to get a British passport, and Myroslav Dykun, who also hoped to compete at the Olympics, failed a drugs test.
Criticism
Butkevych may call the Ukrainian city of Zaporizhia "home", and her English is not perfect, but she underlined her commitment to Britain by vowing to win a medal to repay the faith shown in her by her adopted country.
She added: "I want to give back something. You gave me the chance to wrestle, I want to give you a medal and show you it was worth it.
"I hope it will happen. I don't know if it will (stop the criticism)."
Butkevych will take to the mat in two weeks' time for the 55kg freestyle event, capping a five-year journey that started when she moved from Ukraine to wrestle in Britain.
She admits she struggled to adapt to life in Salford when she moved but she is now happy living in the north-west.
She said: "It's not hard now, but when I first came here it was. I was ashamed that I didn't know English well, but now it is not difficult.
"All my life I have met people from different countries, from different ways of life, and I have adapted.
"I know a lot of Russians and Ukrainians here and I have a lot of English friends too."
Magic
Butkevych has spent much of the last few weeks in two remote training camps in Ukraine as she prepares for the Games.
She raised hopes that she could become Britain's first Olympic wrestling medallist since 1984 when she came second in December's Olympic test event.
With London possibly her final chance of winning an Olympic medal, Butkevych admits topping the podium on August 9 would be an incredible feeling.
She said: "That would be magic; it would be the best thing that's happened to me in my life.
"I have worked so hard to get here and I would be really happy if I won a medal. I hope I can."