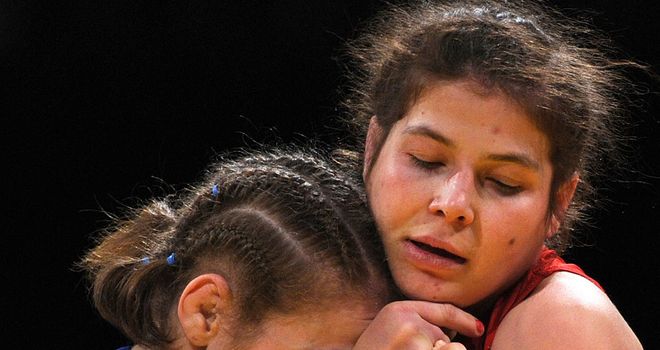 Yana Stadnik: Claimed a silver at the European Championships in Baku last year
British Wrestling chief executive Colin Nicholson is still hopeful Yana Stadnik will be allowed to represent Great Britain at the 2012 Olympics.
Stadnik came to Britain from her native Ukraine in 2007 to help the British elite team as a sparring partner, but decided to stay on.
She now hopes to represent team GB in the 48kg category at next summer's Games in London, with the 24-year-old's application for British citizenship to be heard in February.
However, the decsion taken by British Wrestling to back Stadnik has been criticised by some, most notably those home-grown wrestlers who have lost their place in the elite squad due to an influx of competitors from eastern Europe.
"If the athlete wants to become naturalised then we will try to help them achieve their aspirations," Nicholson said.
"We treat every case on an individual basis and in Yana's case we are optimistic of success. We are optimistic that the right decisions will be taken by the relevant authorities."
Medal prospect
Stadnik - whose brother Andriy won silver for Ukraine at the 2008 Olympics in Beijing - is seen as a real medal hope for Britain, having claimed a silver at the European Championships in Baku last year.
But the issue over her selection refuses to go away - it was reported on Friday that British athletes had refused to talk to the media at a press day in London because they had become annoyed with questions over naturalisation.
Nicholson played down the reports, saying there had been a misunderstanding between organisers of the media day, which was being held to preview this weekend's Olympic test event at the ExCel Arena.
"The GB team were there training and they were happy to have the cameras there filming the training," Nicholson said.
"I expect that the journalists who came down expected to have interviews with the athletes, but we told LOCOG yesterday (Thursday) that they were not doing interviews. I said I would be the only one giving interviews.
"The athletes were focusing on the competition rather than worrying about interviews."