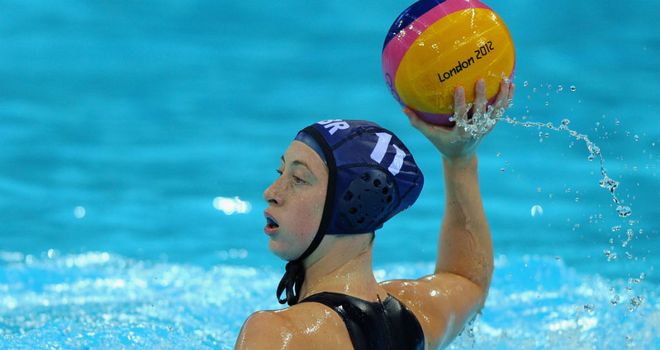 Francesca Painter-Snell: Scored a hat-rick in Britain's defeat
Britain pushed Spain all the way but were still dumped out of the women's water polo tournament after a 9-7 defeat in the quarter-finals.
The hosts nation came back from a four-goal deficit to get within one score of their opponents in the dying minutes, but it was the Spaniards who booked their place in the last four.
Britain took the lead when Francesca Painter-Snell converted a penalty from the five-metre line but Spain responded quickly, levelling the scores, only for Painter-Snell to bag her second soon after with a man-up goal.
Team GB's opponents then fired in two more to take a 3-2 lead after the first quarter. The Spaniards pulled away in a decisive second quarter, scoring three unanswered goals to extend their lead to four.
Goalkeeper Rosie Morris stopped the in-form Spanish side from pulling even further ahead as she made some great saves, and Britain should really have got on the scoresheet themselves but wasted three man-up chances.
Ciara Gibson-Byrne found the back of the net to open the scoring in the third quarter, and Team GB survived two Spain power-plays as with two efforts struck the woodwork.
A well-worked move allowed Hazel Musgrove to fire in a goal from the left hand side, but Spain struck again to restore their three-goal cushion.
Crucial miss
Gibson-Byrne missed a crucial penalty with 90 seconds to go in the period, which would have reduced the deficit to two goals, but instead Spain scored at the other end to pull into a four-goal lead.
But Gibson-Byrne made up for the penalty miss with the final goal of the penultimate period, taking the score to 8-5 at the whistle.
Fiona McCann fired home another for Team GB goal in the fourth quarter, before a superb double save from Morris denied Spain.
Birthday girl Angie Winstanley-Smith attempted a reverse shot from five metres out, but the effort rattled the upright.
Painter-Snell slotted in another man-up goal to claim her hat-trick after a time-out to send the home crowd into a frenzy.
A fantastic save from Morris denied the Spaniards a man-up goal with 60 seconds to play, but the eventual winners did manage to wrap up the match as the ball squeezed over the line with a later effort.
Spain's win sets them up a semi-final clash with Hungary on Tuesday, while Great Britain will play Russia in a classification match.
Spain's Anni Espar and Lorena Miranda each scored a brace, while Roser Tarrago, Jennifer Pareja, Ona Meseguer, Maica Garcia and Laura Lopez netted one each.