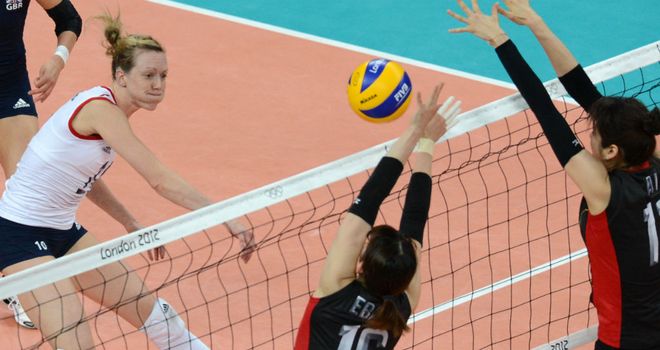 Lyn Beattie (L): Could not lead her team to victory over Japan
Great Britain's hopes of ending the women's volleyball tournament on a high were distinguished as they suffered a 3-0 (25-19 25-14 25-12) defeat to Japan.
A first-ever Games win over Algeria last Monday had opened the window for Audrey Cooper's side to secure an unexpected quarter-final berth but two straight defeats put paid to those hopes.
The Dominican Republic's victory this morning ensured that qualification was no longer a possibility when GB took to the court, but it was always going to be tough for them to see off Japan regardless of the bounty on offer.
GB are ranked 69th compared to the Asian side's world standing of fifth and have just five years of top-level experience behind them.
That proved telling as Japan never looked back from taking the first point, but Great Britain's objective in London was already complete having secured their historic success against Algeria.
Japan stretched out to 6-1 in the first set but after Cooper called a time-out they responded in a more focused manner, with Ciara Michel spiking twice at the net and Lynne Beattie tipping a winner after a long rally.
Their revival saw them back to 8-13 but a number of errors were costing them, with Janine Sandell failing with a spike and Michel netting a serve as Japan got out to 23-15.
But a Beattie-led rally followed, with the captain blocking and then Rachel Bragg hitting a winner to 19-24 before Japan saw it out when Bragg netted a block.
Momentum
The second set started in a similar manner, with Beattie finally shutting down Yukiko Ebata at the net before a cruel injury to Janine Sandell ripped GB's momentum to shreds.
Her knee buckled under her as she went for a block and after a break she left the court in tears, having to be wheeled out in the absence of a stretcher.
The score went from 5-7 to 5-13 in the aftermath, before Savanah Leaf stopped the rot with a spike that clipped the net.
Another Beattie winner helped the cause too, but with Ebata always dangerous they fell 7-18 behind causing Cooper to hook them off for a time-out and give them an audible dressing down.
They were unable to prevent a 25-14 set loss, though, before starting the win-or-bust third in aggressive fashion.
Beattie and Michel both found the ground from high up and, when Michel blocked Risa Shinnabe, it was 8-9.
Japan's livewire libero Yuko Sano had a job on to repel what the rejuvenated British front row were throwing at her, with Bragg going up on a Lucy Wicks set to make it 10-10.
But the difference was proving to be that whenever the hosts received a spike they were not set for the follow-up shot and, with plenty of floor to aim for, Japan turned up the heat to get to 17-11, a lead they extended to complete victory.