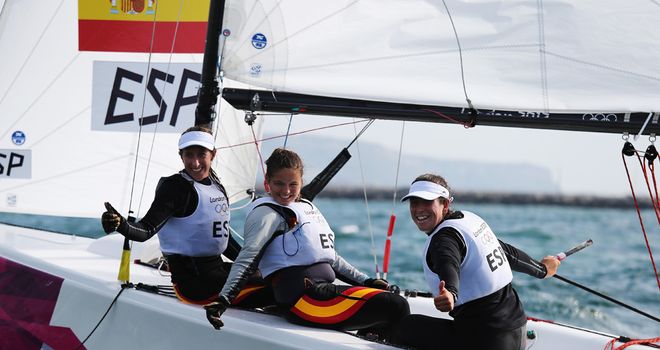 Spain: Overcame Australia to win gold
Spain surprised favourites Australia to win the last sailing gold of London 2012 in the women's match racing class.
Having overcome Ekaterina Skudina's Russia in the semi-finals on Friday, Tamara Echegoyen-skippered the Iberians to deny the Australian crew a fourth sailing gold medal of the Games.
Australia twice recovered from going behind in the best-of-five series, but Echegoyen, Sofia Toro and Angela Pumariega went onto ensure Spain top the podium.
Things began well for the eventual gold medallists in Weymouth Bay, easily winning the first race ahead of Australia's Olivia Price, Lucinda Whitty and Nina Curtis.
The Antipodeans responded well and impressively won the second race, before things went a cropper in match three as Price fell out of the boat.
Australia took the lead and were making good progress on the first downwind leg when the skipper was swept out of the boat, forcing crew members Whitty and Curtis to swing the boat around to collect her.
Spain went on to easily win the race but Australia responded strongly yet again, levelling things up at 2-2 as they took the fourth race by some distance.
Victory
However, Price and her crew eventually had to settle for silver after being forced to take a penalty turn in a tight final race, allowing Spain to go and win the first-to-three series.
Earlier in the afternoon, Silja Lehtinen's Finland overcame Skudina's Russia to win bronze.
Team GB's women were confirmed as seventh-place finishers.
The trio of Annie Lush, and sisters Kate and Lucy MacGregor (pictured) were due to race for the 5-8 places, but the opening rounds which were due to take place on Thursday had to be cancelled due to light winds.
The final standings were decided by their finishing positions in the round robin stage before the knockout stages.