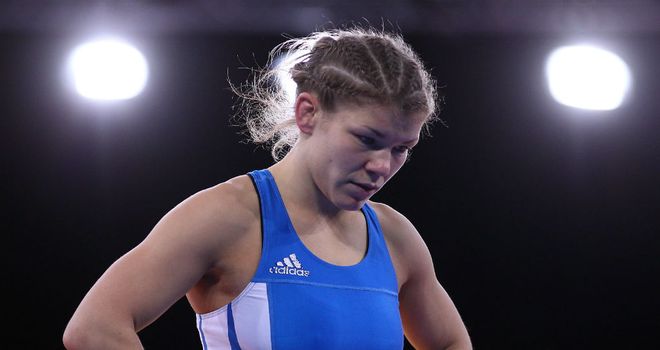 Olga Butkevych: Hoping for wrestling gold
Olga Butkevych wants to continue the feel-good factor around Team GB by winning Britain's first medal in women's wrestling tomorrow.
Ukraine-born Butkevych only earned British citizenship three months ago, but she will proudly don the colours of Team GB when she takes to the mat in the -55kg freestyle.
The 26-year-old has had to endure an agonising 13-day wait for her event to begin and has spent some of her spare time watching Team GB's gold rush unfold.
Butkevych has been inspired by the "magic" performances of Jessica Ennis and Britain's two judo medallists Gemma Gibbons and Karina Bryant, and she now hopes to add another medal to her adopted country's tally.
"The British team have been getting good results, it has been magic," Butkevych said.
"I have been watching it in my room on TV every day.
"The team is doing well in a lot of sports like cycling, gymnastics and in the athletics with Ennis, she is so good.
"I watched the judo as well and I am so happy for the two girls. They really had a hard competition and took medals. I hope it will be a successful Games for me.
"I hope I can get a medal. My body and mind feel right but a lot depends on luck."
Butkevych, the daughter of two factory workers, grew up 5,000 miles from London in Zaporizhia, the sixth-biggest city in Ukraine, and took up wrestling after a coach visited her school when she was 14.
In 2007 she came to Britain as a sparring partner, but controversially British Wrestling then allowed her to compete for Team GB after she gained citizenship.
British Wrestling say Butkevych has every right to compete for the country, and say anyone doubting her commitment should take note of what she has put herself through over the last few weeks.
Butkevych has gone through two gruelling training camps in remote areas of Ukraine and she has had to sweat off four kilograms in the last few days to make the 55kg weight.
"I normally wrestle at 59kg so I have to do more training and less eating and drinking," she said.
"It's not easy but you have to do it to make the weight.
"Sometimes I feel sick but then I start thinking about something nice. I think about after the competition and I tell myself: 'I feel good, I feel good' and I do."
Butkevych goes in to tomorrow's event in good form, but she also knows failure could have long-term consequences for wrestling in Britain.
British Wrestling have spent £3.5million over the last eight years funding a project that has only delivered one Olympic athlete, and the fact that she was born in Ukraine has led to unease in some quarters.
With most of Britain's other sports excelling, British Wrestling fear a sub-par performance could lead to a funding cut - something they could do without seeing as they are already the third-worst funded Olympic sport in Britain.
Performance director Shaun Morley hopes Butkevych can medal to boost the sport's profile and their coffers.
He said: "I would like to see her do well to positively promote this sport to the public. If she does well it will positively impact on funding too."
British Wrestling are already planning for a post-Games participation boom. Today they announced they had commissioned a new project to improve coaching and nurture talent at grass-roots level.
Chief executive Colin Nicholson said: "This is a key element of British Wrestling's contribution to delivering a post-Games legacy for our sport.
"By strengthening our network of clubs throughout the country, we shall create opportunities to increase wrestling participation at grass-roots level and identify the next generation of elite performers to compete in Rio 2016 and future Olympics beyond that".