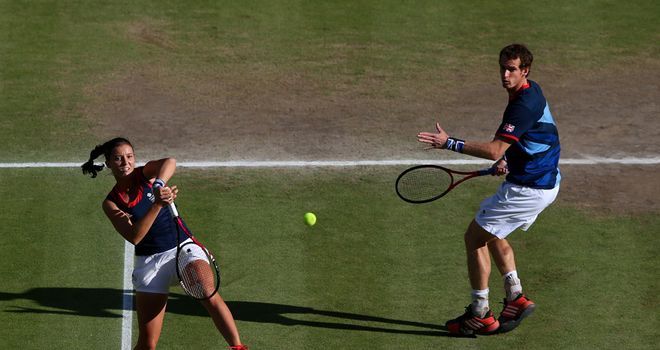 Laura Robson (L) and Andy Murray (R) came up just short in their bid for mixed doubles gold
Andy Murray narrowly failed to make it a golden double as he and Laura Robson were beaten by Max Mirnyi and Victoria Azarenka of Belarus in the final of the mixed doubles.
The British number one returned to the court 45 minutes after having one gold medal hung around his neck following his trouncing of Roger Federer in his quest for another, this time with Robson alongside him.
The pair, who needed a wild card to get into the tournament, had come through three tight matches to reach the final, including two on Saturday, and were up against the top seeds.
But they were playing on a high and began by breaking the Mirnyi serve when Murray arrowed a backhand return down at the big Belarusian's feet.
Centre Court, now showing substantial gaps, roared its approval, and the British pair were in total control of the first set when they made it three games in a row by breaking the Azarenka serve to love.
Robson was up against the women's world number one but she was far from outclassed and when it fell to the 18-year-old to serve out the set, she did not waver.
Murray and Robson have won the first set in all their matches this week only to lose the second, and it looked like the same pattern could be on the cards again when Robson was broken in the fourth game.
Belarusians fight back
Murray netted a volley to give away a break point and Azarenka's return was too good for his partner.
The British pair tried to fight back but the Belarusians had upped their game and Mirnyi was rock solid as he served it out 6-3 to send the contest into a deciding match tie-break.
Things began badly for the British pair when Robson double-faulted and they were quickly 3-0 down, but Murray held both his service points and they were back level when Robson's volley landed on the line.
The 18-year-old had tightened up, though, and another double fault gave the Belarussians a slender advantage once more.
Murray got them back on track at 5-5 with a thumping volley but Mirnyi drilled a return straight at Robson to edge the top seeds 7-6 ahead and Azarenka held both her service points.
That brought up three match points. The British pair saved the first with a smart volley from Murray and Mirnyi shanked a return on the second.
But the Belarussian had one more on his own serve and Murray's return was meat and drink for Azarenka, who volleyed her way to gold.
The pair followed in Murray's footsteps and climbed up to their box to celebrate with friends and family, while the Scot slapped his racquet onto his bag in frustration as he and Robson had to settle for silver.