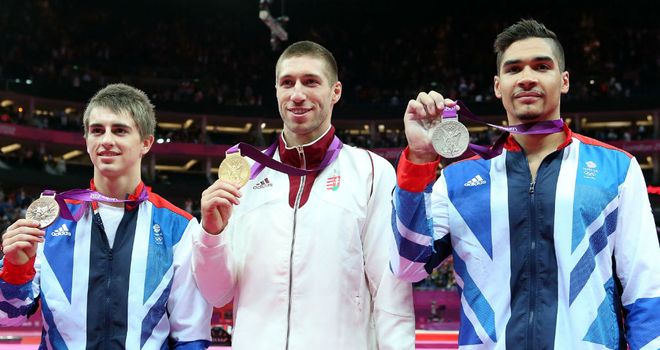 Louis Smith (R), Max Whitlock (L) and Krisztian Berki
British gymnast Louis Smith won the silver medal in the Olympic pommel horse event as team-mate Max Whitlock took a surprise bronze.
Pre-event favourite Smith was pipped to the gold by Hungary's Krisztian Berki in the North Greenwich Arena by the narrowest of margins.
Both routines received scores of 16.066 from the judges but Berki took the gold courtesy of a better execution score.
Smith, the bronze medallist in Beijing four years ago, had disappointment etched across his face after the result flashed up on the scoreboard having been the last man to perform.
After the result was announced, Smith went over to shake Berki's hand and was quick to acknowledge the quality of the gold medallist.
"We're good friends,'' he told the BBC. "We're great rivals but we're good friends.
"If I was going to be beaten by anyone apart from Max then Krisztian Berki is that guy.
"He'll go down as one of the greatest pommel horse workers ever and the fact I came second to him is something to be proud of.''
Whitlock claimed third place with a score of 15.600 and was delighted to make the podium.
Amazing
"Before the competition I just wanted to go out there and do a clean routine and it was basically whoever did the cleanest routine would get a medal,'' he said.
"Lewis has done a great job and I'm really happy to get a medal. I didn't think I'd get one so to come home with two is an amazing feeling.''
Earlier, Zou Kai claimed the first individual apparatus title of the London 2012 Olympics, winning on the floor.
In doing so, the Chinese star successfully defended the crown he won on home soil in Beijing four years ago.
Zou's score of 15.933 at the North Greenwich Arena was more than enough to defeat Japan's Kohei Uchimura (15.800).
It was his second gold of the Games, having been part of China's all-round team champions.
Sandra Raluca Izbasa claimed victory in the women's vault, edging out favourite McKayla Maroney, of the USA.
Izbasa took gold with an average of 15.191 for her two vaults, ahead of Maroney, whose error on her second vault proved costly.
She had scored 15.866 with a huge technically difficult Amanar before losing rotation on her second effort to finish with a score of 15.083.
German Oksana Chusovitina, the oldest female gymnast in the Games at the age of 37, finished in fifth place.