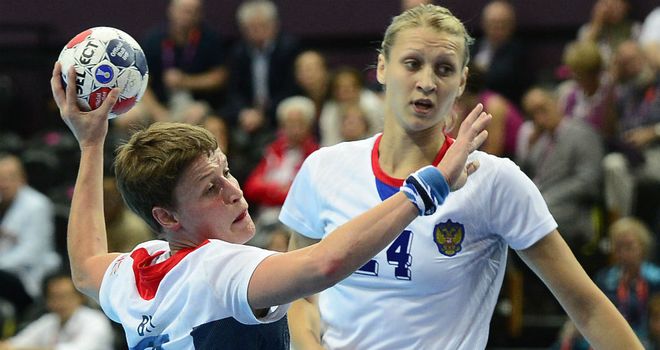 Lyn Byl (L): Top scored for Team GB in heavy defeat
Team GB's women handballers were condemned to a resounding 37-16 defeat by Russia in their second Group A preliminary match at the Copper Box.
Britain made their Olympic Games debut with a promising display in a 31-19 loss to Montenegro on Saturday night, but failed to build on that against another eastern European powerhouse.
There were some flashes of promise during the contest but scoreline in the end showed a heavy loss and Team GB struggled to cope with the power of their vastly superior opponents.
Lyn Byl top scored for the hosts with five while Sarah Hargreaves impressed in goal with a number of important saves.
"Russia gave 100 per cent for 60 minutes and it's great to play against the very best," GB coach Jesper Holmris said.
Off day
"But we had a few players who had an off day and weren't quite up to speed and we can't handle teams like Russia if we are not at 100 per cent.
"It's an advantage for Russia to have played us twice before (Britain have played the Russians twice in the last 10 months) because they knew what to expect, they weren't surprised and had prepared well.
"They knew our moves in attack so it was hard for us. We knew we couldn't win but we just wanted to give them a hard time and we did in short spells but I was a little bit disappointed.
"But the Russians are just a super power and they can definitely get a medal."
Russia coach Evgeny Trefilov told his players some of them should think about retiring after they scraped past Angola in their opening match, and his words did not look to be having the desired effect when two strikes from Britain's Marie Gerbron levelled things at 2-2 early on.
But Russia then rattled off six successive goals to take an 8-2 lead, which even as early as the 13th minute was always going to be too much for Team GB to recover.
Possession
Zoe van der Weel broke that run with a superb lob, but for all their possession the hosts struggled to penetrate a stern Russian defence.
Despite the best efforts of a partisan crowd, Russia opened up a nine-goal advantage at the half-time break, leading 17-8 as Liudmila Postnova scored four times.
They did not let up after the restart, knocking in five consecutive goals before strikes from Kathryn Fudge and Holly Lam-Moores and five Hargreaves saves got the crowd cheering.
But the Russian onslaught continued and they had increased their advantage to 12 goals by midway point of the second half to lead 25-14.
Byl notched her fifth goal of the day, but the eastern Europeans the scored eight of the next nine goals as they began to run away with it.
It was a tough final 10 minutes for the hosts as Russia continued to build on their lead, with goals from Lynn McCafferty and Lam-Moores providing some brief respite for Team GB.
The defeat leaves Britain bottom of Group A, but Holmris had stated from the off that their chance in this competition comes against the non-European teams, starting with Brazil on Wednesday.