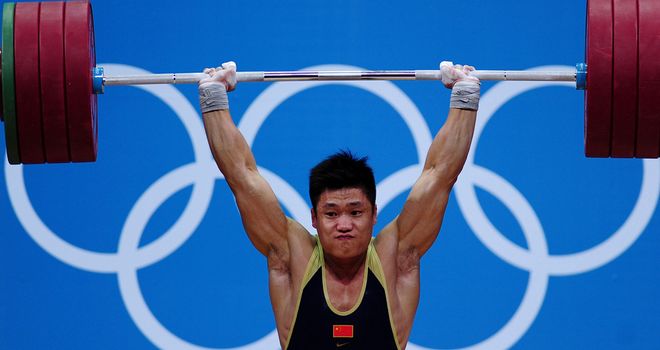 Xiaojun Lu: Set a new world record
China's Lu Xiaojun set new world and Olympic records to win weightlifting gold in an action-packed men's 77kg at ExCeL the men's 77kg as Great Britain's Jack Oliver achieved a personal best earlier in the day.
Armenia's Tigran Martirosyan, 2010 world champion, withdrew before the competition started with no reason specified, while reigning Olympic champion Sa Jaehyouk was then forced out with a nasty looking elbow injury sustained while attempting his second snatch attempt of 162kg.
Although the battle for gold and silver was always likely to be between Lu and his compatriot Lu Haojie.
And it got off to a thrilling start as the pair exchanged 170kg attempts before Lu Haojie failed at 175kg, leaving Lu Xiaojun to succeed where his rival failed and beat his own world record while also setting an Olympic best.
There was still time for more controversy as Lu Haojie passed on his third attempt and, amid the confusion, Lu Xiaojun was subsequently timed out as he looked to further rewrite the history books.
But there was plenty of time for that as he slowly rose to his feet to send a 204kg clean and jerk over his head and set a stunning total of 379kg, again eclipsing his own previous achivements and taking Taner Sagir's Olympic record.
Lu Haojie had previously taken to the stage to clean and jerk 190kg before passing on his next two attempts when it become clear he too had sustained an arm injury, with his 360kg total still enough for silver.
Cuba's Ivan Cambar Rodriguez edged a tight battle for bronze from Thailand's Chatuphum Chinnawong and Egypt's Ibrahim Ramadan Ibrahim.
Oliver impresses
Earlier, Oliver continued the fine form of Team GB's weightlifting squad at London 2012.
Hot on the heels of Zoe Smith and Gareth Evans, Oliver managed a total of 310kg - six kilos more than his previous finest - competing in the B group of the category.
It was only enough for fourth place out of five lifters but the 21-year-old from Bexleyheath achieved his aims coming into the Games.
Oliver, who failed all three snatch attempts at the British Senior Championships in May, started off nervously at ExCeL.
Taking a long time to settle himself and with the clock running down, Oliver missed out on his opening lift of 135kg but recovered to take it on his second attempt before, much to his delight, then making 140kg, two kilos short of his snatch PB.
But he more than stepped up to the plate in the clean and jerk, successfully raising 160kg, 165kg and then a monster 170kg - five kilos heavier than his clean and jerk best and just one kilo off Halil Zorba's British record.
Perdue problem
Later, Natasha Perdue overcame a worrying spasm in her left leg to record a total although it did not trouble her personal best in the women's 69kg B group.
The 37-year-old's leg gave way after her first failed snatch attempt at 92kg and, after securing a successful second lift at the same weight, she almost collapsed again before being helped to a nearby seat by Team GB weightlifting head coach Tamas Feher.
Perdue appeared for a third and final attempt at 95kg, still three kilos off her snatch PB, but then felt her left shoulder give way midway through.
A crucial interval period provided welcome physio treatment and the battling Swansea lifter was able to clean and jerk 113kg to bravely record a total of 205kg, despite that being five kilos off her previous best.
Perdue and her coaching staff subsequently decided to call it a day with a total in the bag and she passed on her following two attempts.
Perdue revealed afterwards that the injury had not surfaced in training or the build-up to the competition.
She undoubtedly takes mixed emotions from the experience but proudly follows in the footsteps of her late father, Terry, who competed for Great Britain in weightlifting at the Mexico 1968 and Munich 1972 Games.
Later in the day, Rim Jong Sim triumphed to take North Korea's weightlifting gold medal count to three in London and continue the nation's remarkable surprise performance.
The weight category was wide open after Russia's gold medal favourite Oksana Slivenko, world and European champion, was forced to withdraw last week due to injury.
And the competition proved just as unpredictable as expected, with Rim's gold being confirmed on the penultimate lift while merely bodyweight alone separated second, third and fourth place.
Roxana Daniela Cocos (Romania) claimed silver, with Maryna Shkermankova (Belarus) taking bronze ahead of unfortunate compatriot Dzina Sazanavets after all three tied on 256kg.