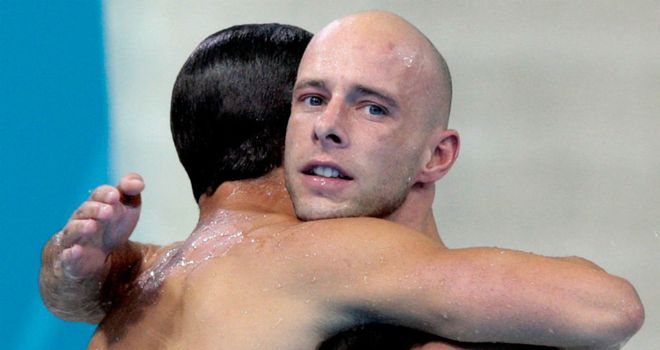 Peter Waterfield: Admitted that he made a mistake on the fourth dive
Peter Waterfield has revealed that he made a quick apology to Tom Daley after the duo missed out on an Olympic medal in the 10 metre platform synchro.
The British pair had been on course for the first home gold medal of London 2012 when they led their Chinese rivals at the halfway stage of the competition.
But a fluffed fourth dive, when Waterfield was most culpable after over-rotating his back three-and-a-half somersaults, saw them crash out of the top three.
They could not climb back into the medal positions despite a strong finish and after the competition former silver medallist Waterfield admitted that he was the one most at fault for the disappointment.
"After that fourth dive I actually said sorry to Tom. I said, 'sorry mate'," the four-time Olympian said.
"That's when he said, 'don't worry we've got our next one and we've got a big one'. Unfortunately it just wasn't big enough to get back."
"We're a team and we win together and we lose together. We're proud of being here at the Olympic Games in front of a home crowd."
Tom Daley Quotes of the week
Daley famously fell out with Blake Aldridge during the platform synchro at the last Olympics in Beijing when he claimed his former partner answered a phone call from his mother between dives, but he refused to criticise his partner this time.
"We're a team. At the end of the day that's it, full stop," Daley said.
Team
"We're a team and we win together and we lose together. We're proud of being here at the Olympic Games in front of a home crowd.
"It's been a tough year for me training-wise and it's been tough for Pete with injury and things like that. You win as a team and you lose as a team."
The mistake drew an audible groan inside the Aquatics Centre and while the duo produced a solid if unspectacular forward four-and-a-half somersaults on their next dive, they had left themselves with too much work to do.
"It's the worst place to finish at the Olympics. I would have rather finished last, because then at least you know you've missed every dive," Waterfield said.
"On the fourth dive I had a great start, I was spinning really well and I just kicked my feet a little bit too high, which means I was over-rotated. And once you've kicked and over-rotated, you can't then stop it."
Daley added: "Our first two dives were the best of the competition and then the third dive was one of our best as well, so after three dives we were on the highest score we've ever got," he said.
"But then on the fourth dive we missed and in this level of competition and in this field you can't afford to miss any dives.
"We did pretty well to stay in fourth and the home crowd did really lift us after that dive that we missed - but at the end of the day if we got nine points more on our reverse three-and-a-half, which normally we would be able to do, then we would have been on that podium."
The Britons' slip down to fourth and their failure seemingly made the Chinese's success sweeter after Daley had claimed in the lead-up that they could be vulnerable under pressure in their first Olympics.
"I think it's only Tom that thinks that," 17-year-old Cao Yuan said. "He thinks I can't go through pressure, that I might crumble. But it's only his opinion. I've never felt like that.
"I usually don't look at other athletes. That's why I don't feel any pressure."