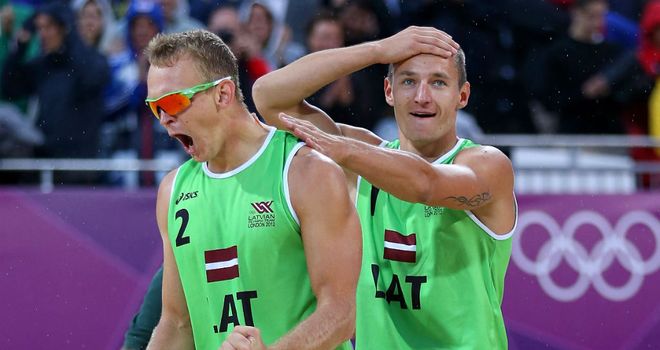 Martins Plavins and Janis Smedins: Through to the last four
The semi-final line-up in the men's beach volleyball event has been confirmed after an evening of drama at Horse Guard's Parade.
Holland will take on Germany, while Latvia will tackle favourites Brazil for places in the gold medal match.
Latvia's Martins Plavins and Janis Smedins caused the biggest shock on a rainy night in Westminster as they ended the involvement of the United States with a three-set win over Jacob Gibb and Sean Rosenthal.
Gibb and Rosenthal had boasted the best record on beach volleyball's World Tour this year but they lost out 2-1 to the Latvians, who now face gold medal favourites Alison Cerutti and Emanuel Rego of Brazil in the last four.
"It's unbelievable, I have no words to say," said Plavins.
"It's just unbelievable that we managed to beat them after the first set where we lost. We managed to play better and they did not play as well as they did in the first set.
"The match changed 100%, we dominated. In the third set we were ahead and it was very hard for them to get points, and they didn't.
"We are in the semi-finals and it is just unbelievable. We will try to get one win more but it will be very, very, very hard."
Upset
Latvia will fancy their chances against Brazil's No.1 team, though, after the South Americans were given a scare by Poland.
Cerutti and Rego survived match point in the deciding set to eventually win 2-1.
Brazil missed out on having two sides in the last-four, though, after Germany's Julius Brink and Jonas Reckermann upset Ricardo Santos and Pedro Cunha in straight sets.
Brink and Reckermann's reward is a semi-final against Holland's Reinder Nummerdor and Rich Schuil, who were also 2-0 winners.
The Dutch duo overcame the young Italian pair of Paolo Nicolai and Daniele Lupo - the surprise winners over 2008 gold medallists Todd Rogers and Phil Dalhausser in the last 16.