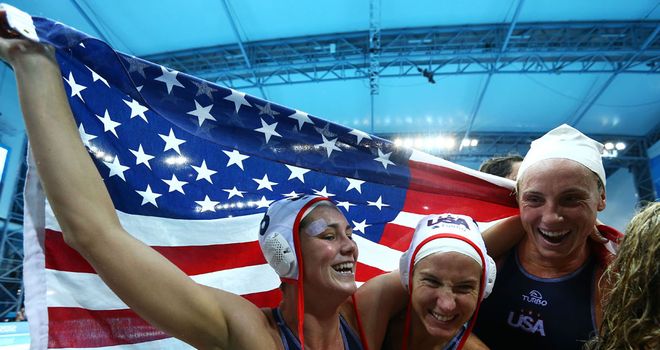 The United States celebrate their success
The United States took Olympic gold in the women's water polo with a convincing 8-5 victory over Spain.
Maggie Steffens scored five goals for the Americans as they cruised past the Europeans in the tournament final.
The win gives the USA their first Olympic water polo gold, after silver in Beijing, bronze in Athens and silver in the first women's water polo competition in Sydney.
A flurry of seven unanswered goals across the second, third and fourth periods propelled the USA from 2-1 down into a commanding position, 8-2 up, in the final quarter.
Devastating shooting and resilient defensive work by the Americans kept their scoreboard ticking over, while denying their opponents vital chances.
A stunning performance from the tournament's 'all-star' goalkeeper Betsey Armstrong kept the Spaniards from scoring the goals that, until tonight, gave them an unbeaten record.
Spain did rally to outscore their opponents in the final quarter, but they left it too late to seriously bother the eventual winners.
Aussie bronze
Australia took bronze in the competition with a dramatic 13-11 extra-time win over Hungary.
In a repeat of the Beijing third-place play-off, the Australians looked to have won their second successive bronze in normal time.
A last-second Hungarian equalizer forced the tight game into added time, but Australia scored two unanswered goals to clinch the match 13-11.