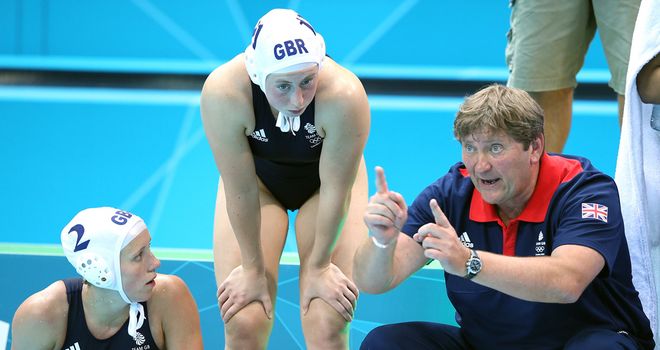 Szilveszter Fekete: Convinced GB will come good
GB women's water polo team head coach Szilveszter Fekete insists his winless side can beat Spain in the quarter-finals.
He claims the group stage - from which every team qualifies - was a warm-up, and the "Olympics really starts" in the next round.
In contrast to Great Britain, Spain have a 100 per cent record, after winning their three opening matches.
Fekete said: "For us it's indifferent who is there [in the quarter-final], but in the last year we have had many many games against Spain.
"We always have a good game, a very close game, and I think we have more chance against Spain than anyone else in this tournament.
"I just hope we can take it."
Positives
Asked if the treble of defeats was a concern, he said: "It doesn't matter about the losses."
Great Britain sank to a 10-5 defeat against Italy on Friday evening, but Fekete said the team can take positives.
"We fought more than against Australia," he said.
"There were some man-ups that we should have scored, but didn't, but we were confident. There were good possibilities but the shooting was not really good.
"I thought it was a close game, a good fight.
"It was a good warm-up for the next game, which is where the Olympics really starts."
Centre-back Alex Rutlidge, 23, from Lancaster, agreed with her coach that Team GB's shooting was not as effective as Italy's.
She said: "I think their outside shots were strong, whereas we need to make more of shooting outside, and using our stronger shots, which I think we didn't do as much as they did today.
"I think our centre-forwards did really well in drawing the drop and making the Italians drop, and I think we needed to use that more and stay calm. We know we've got good outside shots, and so we'll take that forward to the next game and shoot really hard in the quarter-finals."
Woodwork
Team GB rattled the woodwork a number of times, and Rutlidge said it was unlucky.
"It was unfortunate our shots were so close to going in," she said.
"It was a matter of centimetres, so hopefully on Sunday those shots will be going in."
Asked about the team's poor performance over the last three matches, she said: "We knew they were going to be tough games, and we wanted to take something from each game and learn from that.
"We know the quarter-final is an important game, and if we win that we go through to the semi-finals, which is the top four."
Ciara Gibson-Byrne, 19, from Manchester, scored twice in the game. She said: "We had a few outside shots today, which we weren't very lucky with most of the time, but I managed to get two goals, and it was good.
"It's really frustrating, but it's just that slight movement that you don't do and you just hope to get them in next time."