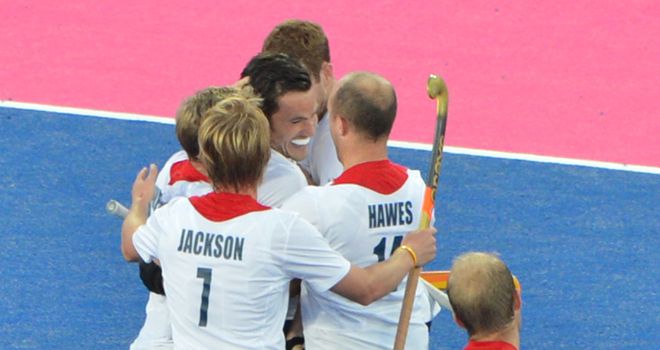 Team GB celebrate their comeback against old rivals Australia
Great Britain's men produced a fine comeback to draw 3-3 with Australia and keep their semi-final bid on track.
The point gained from 3-0 down means the British now know a draw against Spain on Tuesday will see them progress to the last four.
The hosts were three down early in the second half before they made their charge in exhilarating fashion.
Two goals from Matt Ford and another from Mark Knowles had seemingly put Australia in control but Jonty Clarke began the fightback before captain Barry Middleton and James Tindall completed the recovery.
GB had won only five of 47 meetings with their rivals and had not beaten them since the 1988 Olympic semi-final in Seoul when a certain Sean Kerly scored a hat-trick on the way to gold.
And while this was not a victory it certainly felt like one as the team came back from the dead against the best side in the world.
The Aussies took a seventh-minute lead when Ford's run down the left byline evaded two tackles before squeezing a shot under goalkeeper James Fair from a narrow angle.
Quick
Tim Deavin's quick pass into the circle came off Dan Fox's foot to present Ford with a simple chance from close in to make it 2-0.
The interval came at the wrong time for Jason Lee's British side as they were just starting to build momentum and Australia were able to regroup.
When Knowles drilled a low shot inside Fair's left-hand post after the break it looked like the game was up, but GB showed the battling qualities which may yet get them into the last four.
Clarke's run along the byline from out on the right caused concern in the Kookaburras' defence but he had a stroke of luck when his cross hit Chris Ciriello and bounced over the line.
Dive
But there was no fortune about their well-rehearsed penalty corner move which saw Middleton dive in at the far post to deflect in Richard Smith's pass.
The tempo immediately went up a couple of notches as GB sensed a vulnerability in Australia which Argentina had exploited earlier in the week when they came from 2-0 down to draw.
And they found the weak spot again four minutes from time when Tindall picked up Middleton's cut-back to power in a deflected shot which goalkeeper Nathan Burgers could not keep out.
Even a desperate video referral could not save the Kookaburras, who have now conceded two-goal and three-goal leads in their last two matches.
Victory would have secured their place in the knockout round but instead the Australians now face a crunch clash with Pakistan, a side who still harbour medal hopes after beating South Africa 5-4. A draw will take the Aussies through.
Spain beat Argentina 3-1 in the day's final Group A encounter, keeping their hopes alive and ensuring four teams will go into Tuesday's final round of matches with a chance of reaching the semi-finals.
In Group B, the Netherlands secured top spot with a game to spare by beating Germany 3-1.
Germany remain likely to qualify in second spot but still need a point from their final game against New Zealand.
South Korea kept their qualification hopes alive by beating pointless India 4-1, while the New Zealanders and Belgium played out a 1-1 draw.