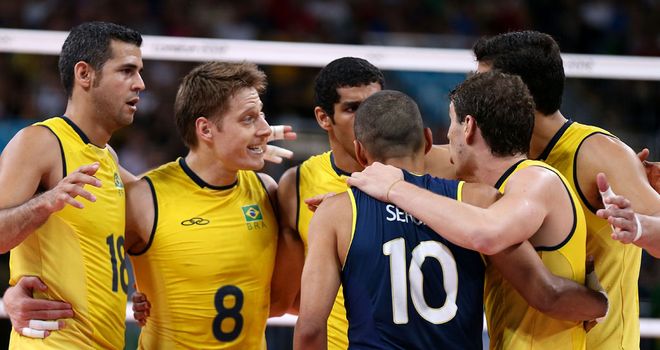 Brazil: Too strong for Italy in the semi-final
Brazil's men matched the achievements of their female counterparts after they crushed Italy 3-0 to reach the Olympic volleyball final.
With the women set to face the United States on Saturday, the pressure was on Bernardo Rezende's men not to let the army of Brazilian fans crammed inside Earls Court down, and they duly delivered against a disappointing Italy side who once again fell short of glory.
They have now failed to turn six last-four appearances in to gold and this showing presented two-time champions Brazil with the easiest of semi-final workouts as they cantered through in straight sets (25-21, 25-12, 25-21) in just 79 minutes.
Their reward is a Sunday meeting with Russia where they will look to go one step further than they did in Beijing four years ago when they were undone in the final by the United States.
Even shorn of the talents of injured captain Giba and Leandro Vissotto they still had far too much for the Azzurri to handle, with Wallace stepping in to the starting line-up and more than plugging the gap.
Brazil stole a march from the off and never looked back, out-scoring their opponents on both the spike and block, with Murilo in particular enjoying himself with 15 points.
Wallace was the driving force, though, with his looming presence down the middle far too much for Italy to handle and, even if Leandro is fit for the final, Wallace will surely retain his place.
He and Murilo strangled Italy, with only Cristian Savani putting up any kind of fight with 15 points. His nearest team-mate had six, with the likes of Ivan Zaytsev and Michal Lasco completely ineffective.
Struggles
Italy were never able to get any fluid ball, with their reception poor and setting off-beam. Brazil, however, were slick, finding their hitters in a matter of seconds and very rarely failing to find the floor.
Even when they were put under pressure they got out of trouble, with Murilo clambering in to the photographer's pit to retrieve one ball.
Italy must now dust themselves down for a bronze medal shoot-out with Bulgaria on Sunday, while Brazil will look to add to the titles they won in 2004 and 1992. They have met Russia seven times in Games competition, winning three of them.
Ruthless Russia
Earlier Russia moved to within one win of a fourth Olympic volleyball title after claiming a 3-1 (25-21, 25-15, 23-25, 25-23) victory in their all-European semi-final with Bulgaria.
In a battle of two well-matched sides, it was Vladimir Alenko's men who held their nerve the longest, making the most of getting an early jump on their opponents who duly came back at them towards the end.
The damage had been done in two devastating opening sets, though, with Bulgaria caught on the hop by a Russia side brilliant at the net.
They mixed up their tactics, setting quicker than usual, with previously unheralded players such as Taras Khtey chiming in with some important contributions.
Yet Bulgaria showed wonderful resilience to take the third set - even if it was courtesy of a contentious line call - and went after Russia in the fourth, only to eventually fall short.
Service errors cost them dearly - they made 16 in total - while Russia were clinical with ball in-hand, taking eight points from unreturned deliveries. The trend for that was set in the opener, when five-Games veteran Sergey Tetyukhin served them out of trouble from 17-13 down to 18-17 in front.
That knocked Bulgaria's confidence and, even without Dmitriy Muserskiy, who was sat out for most of the game owing to injury, Russia had enough to hammer home their advantage.
Maxim Mikhaylov returned 25 points and Khtey 13, while Tsvetan Sokolov lead the way for Bulgaria with 16.
Defeat was cruel on Bulgaria based on their performances at the tournament as a whole. Their build-up was ruined by the resignation, reinstatement and second resignation of coach Radostin Stoychev, with Nayden Naydenov picking up a fractured squad admirably.