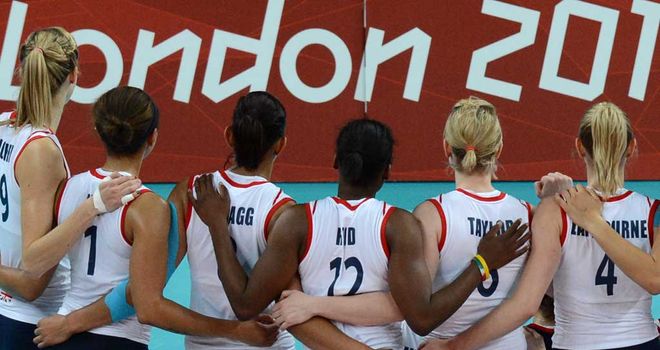 Legacy hope: GB women at the London 2012 Olympic Games
The British Volleyball Federation are targeting Olympic medals in 2024 as they seek to push on from the London Games.
Although beach and indoor volleyball have entertained the public over the past fortnight, a lack of British involvement at the business end of the Games highlights how much work lies ahead.
Both sports are still relatively new to the home countries, especially at an elite level owing to a lack of a domestic league and funding, while participation numbers at a club and junior level are in desperate need of an increase.
The conundrum remains, though, of what needs to come first out of funding and interest.
In the current UK Sport cycle the BVF received just over £3.5million to cover six disciplines - beach, indoor and sitting - and as a result, they were not able to equip their teams with everything they would have liked in the build-up to London.
But with the federation fielding an abnormal level of expressions of interest over the last two weeks, they hope their legacy plans can draw money in their direction, with the aim being to win medals 12 years from now.
Legacy plans
"We believe we were the first sport to submit our legacy plans," said BVF president Richard Caldicott.
"We started them 18 months ago and the first part of our plan is to get our teams knocking on the door for Rio in 2016.
"We need better facilities for our players and we are going to get them. For instance, all the sand used at Horse Guards Parade for the beach volleyball will be redistributed to lay 36 courts inside the M25.
"Add to that 20 semi-permanent courts on beaches around England, the continuation of work with our volleyball centre in Kettering and also the fact we are opening our volleyball academy in Bournemouth.
"If we get the funding we need in the next cycle, we would want to medal at the Olympics in 2024."
The volleyball teams did not meet UK Sport's pre-tournament targets in London. All four teams were tasked with returning a win, with only the women from both disciplines achieving it.
Targeting rise
That has not stopped Caldicott and performance director Kenny Barton targeting a rise in funding to £6million, an amount they believe can sustain their sides through to Rio.
They will present their case later in the year, but before then the men and women's indoor sides face important European Championship qualifying ties. If they can come through them, they are guaranteed top-level fixtures in 2013. If not, they will be faced with some serious questions.
Men's coach Harry Brokking, accustomed to excellence in his native Holland, has grown increasingly tired of preparing his side against low-brow opposition, while the women sold their houses and moved to live in a Sheffield fire station to fund their Olympic dreams. It remains to be seen how committed they would remain to a programme that has no end target.
It is also thought the BVF now regret cutting the women's funding entirely in order to support the men - especially in light of Games results - and are conducting a review of how to use any monies they receive in the future.
"We don't want this to be the end of the journey, this is definitely the start for us," Caldicott added.
"We have a lot of things to think about but, if we can secure the funding we need, we can be successful."