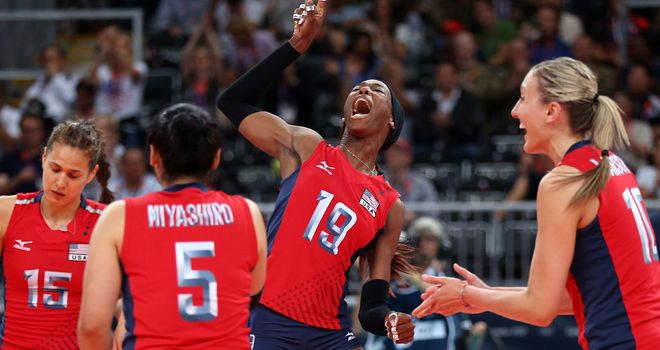 Destinee Hooker (C): Led the way for the USA in semi-final
Defending champions Brazil set up a repeat of the 2008 Olympic volleyball final with the United States by seeing off Japan in straight sets on Thursday night.
The South Americans have been slow burners this tournament, only scraping through the group stages at the death, but have come into their own since the knockout stages begun.
They subjected Russia to their first defeat of 2012 in the quarter-finals and on Thursday disposed of a Japan side who had also had to scrap their way to the last four.
China were their quarter-final victims in a five-set struggle and they still seemed to be feeling the pace tonight as Brazil had too much size and strength for them to handle.
The Japanese opt for a quick and subtle style owing to their lack of height and against sides of a similar nature, such as China, that can prove beneficial.
But against Brazil their agility and nimbleness counted for little as they were thumped out of sight, with the likes of Sheilla (13 points) and Thaisa (12) utterly dominant at the net.
Final
In the earlier match, the best efforts of South Korea star Kim Yeong-koun could not stop the United States from booking their place in a third Olympic volleyball final with a 3-0 (25-20 25-22 25-22) win.
Kim has carried South Korea through the tournament, getting them out of a testing group and then almost single-handedly destroying Italy in the quarter-finals.
But the last four clash was a game too far for the 24-year-old, who was powerless to stop the relentless American front line as Hugh McCutcheon's side putting themselves three sets away from what would be a first-ever gold medal.
Kim was restricted to a relatively low score of 20 points as the States built a near-impenetrable wall at the net, winning 11 points on the block.
Crime
Destinee Hooker again led the way for the US, top-scoring with 24 points while her usual partners in crime were not too far away, with Foluke Akinradewo adding 12 and Jordan Larson 14.
It was point-for-point through to 15-all in the first set until some dogged defence from Lindsey Berg allowed them to win a point they had no right to. From there, they won three in a row and put the first set to bed.
The second followed a similar pattern before Kim took a hold and helped South Korea edge ahead to 20-17. They could not preserve the lead, however, with the speed of Berg's serves allowing the likes of Larson and Hooker to spike with devastating effect.
The third set was more of a routine affair with South Korea clearly beaten apart from a mini-resurgence in the middle stages, with Logan Tom wrapping things up with a spike that flew off the hands of Kim Hae-Ran.