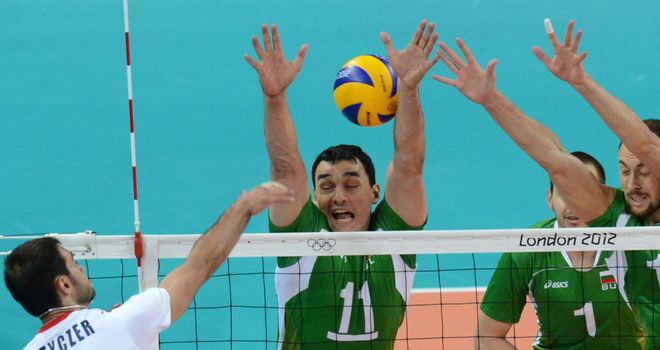 Action from Great Britain v Bulgaria
Bulgaria dashed Great Britain's men's hopes of marking their Olympic volleyball debut with a win following a 3-0 victory at Earls Court on Sunday.
The Bulgarians, ranked ninth in the world, formed a near-impenetrable line at the net, preventing Harry Brokking's big-hitters from ever being able to get their side in front.
GB trailed from the first point and their go-to man Dami Bakare was shut down completely to the point that his lack of confidence saw him make three successive third-set errors that turned an 13-9 advantage into a 16-15 deficit.
The 23-year-old was not alone in being stifled by Bulgaria, though, with only the outstanding Mark Plotyczer able to play with any freedom as Britain saw one of the games they had targeted to win slip away from them 25-18 25-20 26-24.
Pipes down
Captain Ben Pipes was keen to stress that nerves - GB have not played in front of such a large crowd on home soil before - were not a reason for such a sluggish start.
"I personally don't think I was nervous. I felt relaxed but the rhythm didn't come. Everyone was pumped, we were maybe over the top, the opposite of nervous," he said.
"Once we found our rhythm our reception was good and we need more games against these teams. We were loving it on the court - we were playing in the same sports hall but we were a different team in the third set."
GB have two fixtures remaining in Pool A, against Australia and Argentina.