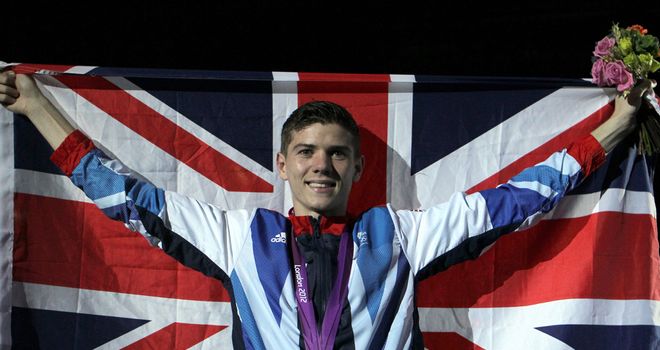 Luke Campbell celebrates another gold medal for Team GB
Luke Campbell realised his lifetime dream as he floored Ireland's John Joe Nevin on his way to a 14-11 victory and the Olympic bantamweight title at ExCeL.
Campbell landed a superb left hand counter in the final round to drop his opponent, who had beaten him in 2009 before the Hull man gained revenge with a close win in last year's World Championship semi-finals.
Campbell had received the loudest cheers on the way to the ring, but there was still a sizeable Irish contingent who were buoyed by a bright start by Nevin, who surprised his old rival by beginning on the front foot.
Nevin's tactics seemed to play into the hands of Campbell to an extent, and the Yorkshireman landed with a slick combination, and although Nevin also landed it was Campbell's sharper shots that gave him a deserved 5-3 first round lead.
Campbell was producing a textbook performance, blocking the majority of Nevin's best efforts and countering well, although the Mullingar man came on well towards the end of the round, landing a peach of an uppercut and a stretching right hand to narrow the deficit to a single point at 9-8.
Given what was at stake, it was no surprise the third round should turn into a cagey affair, Campbell landing the first two rights of note before decking Nevin with a superb stabbing left as the Irishman lunged in to throw a right hand.
Campbell's lightning counters were making the difference, and at the end of an intriguing bout there could be little doubt that the Hull man had done enough to achieve a dream he has had since he first laced on gloves.
Campbell was in tears as the verdict was announced and he accepted the congratulations of his cornermen, saying: "I'm very emotional right now. The plan was to stay calm and stick to the boxing and throw my punches down the middle."
China controversy
China's Zou Shiming has retained his light-flyweight Olympic title after claiming a controversial victory in the gold medal match against Thailand's Kaeo Pongprayoon.
Zou followed up his success in Beijing four years ago with a 13-10 success over Pongprayoon, though the decision was greeted by a chorus of boos at ExCeL after a bout where Pongprayoon seemed to have the better of at least two of the three rounds.
Zou, the top seed and world champion, was nevertheless awarded all three rounds.
A warning in the third round for negative tactics appeared to give Pongprayoon a chance of victory but just moments later he was given the same penalty.
Zou was given the first two rounds by scores of 2-1 and 4-3 but appeared to be well on the back foot in the closer, repeatedly attempting to evade the attacks of his opponent and twice slipping to the ground to force a break in proceedings.
But after warnings for both men saw them trade two-point penalties, Zou again came out on top in the third, extending his lead to three points.
The decision was met with derision by the neutrals in the arena, with Pongprayoon's coach lifting his charge's arm in the air to loud applause.
Cuba gold
Cuba's Roniel Iglesias was next to take the spotlight, upsetting the form book to thoroughly outclass Ukraine's Denys Berinchyk.
The judges awarded the bout to Iglesias by a handsome score of 22-15, but it did not flatter the 23-year-old - who had lost to the same opponent in last year's World Championships.
Berinchyk went on to take silver in Baku and had to settle for the same here as Iglesias - the bronze medallist in Beijing four years ago - made 11 scoring shots in a one-sided final round that saw the Ukrainian's defence fall to pieces.
Iglesias had done enough to edge the first two rounds by a point apiece but in the closing stages the reigning Pan-American champion kept connecting, most obviously with a thunderous left-hand counter, to win in style.
For his part, Berinchyk did not seem too perturbed by defeat and celebrated silver with a mid-ring dance for his fans.