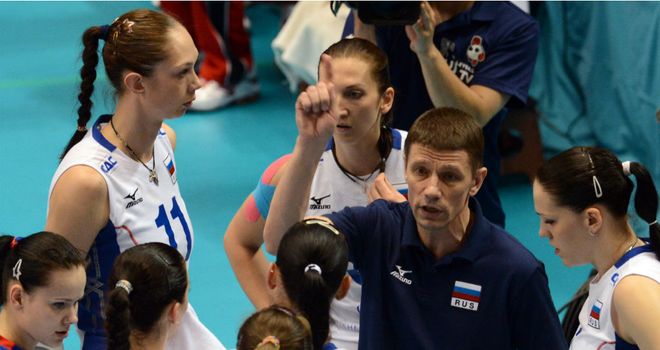 Sergey Ovchinnikov: Found hanged in hotel room
Sergey Ovchinnikov, the head coach of Russia's women's volleyball team, has been found hanged in a hotel room in Croatia.
Ovchinnikov was at a training camp in the country with his team Dynamo Moscow when the tragedy, thought to be suicide, occurred.
It has been suggested that the 43-year-old's death may have been linked to Russia's disappointing performance during the Olympics.
Staff from the club found the married father of two hanging in his room when they went looking for him after he failed to turn up at breakfast.
Aleksandr Yeremenko, the director general of the Russian Volleyball Federation (RVF), confirmed the death but was unable to give further detail.
"We are still gathering more information and until we get all the facts, we won't comment," RVF press officer Irina Zolotova said.
Criticism
Ovchinnikov came in for heavy criticism in the Russian media after the Olympic failure, with many citing his lack of top-level international experience as the main reason for the defeat to Brazil.
The result was said to have weighed heavily on him in the days following his teams' exit from Games on his mind, prompting speculation that he had committed suicide.
Vladimir Alekno, the head coach of the Russian men's volleyball team that won Olympic gold in London, was quoted in local media saying the Brazil defeat had been a huge blow.
"I could see his reaction after that loss," Alenko said. "He took it very personally. He was very hard on himself, probably blamed himself for not winning that match."
Ovchinnikov's agent, Yegor Nozdrin, however, dismissed the notion, saying that personal problems may have led to his client's death.
"There was absolutely no reason for what happened from a sporting point of view," Nozdrin told the daily Sovietsky Sport.
"He was thinking of continuing his coaching career, discussing his future plans before leaving for Croatia. I think it had to do with some personal things in his life."