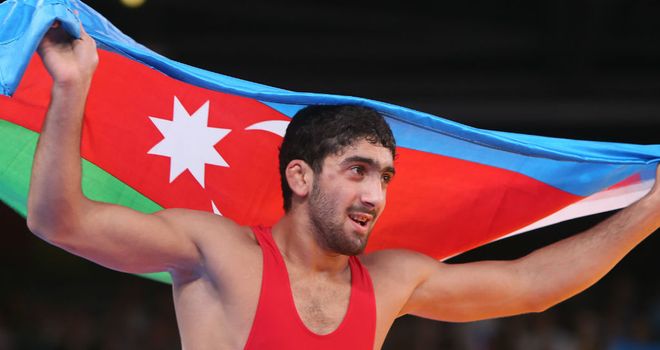 Toghrul Asgarov: won the final 1-0 5-0
A former pupil of the Beslan school which was the scene of a bloody siege eight years ago missed out on Olympic gold in the -60kg freestyle wrestling.
Besik Kudukhov was awoken by gunshots in September 2004 when the school from which he had just graduated was seized by militants.
Over 380 people, many of whom were children, were killed in the massacre.
The 25-year-old was hoping to take an Olympic gold medal back to his North Ossetian hometown, but he had to settle for silver after losing 1-0 5-0 to Azerbaijan's Toghrul Asgarov at ExCeL.
Kudukhov, who took bronze in Beijing, was favourite to beat Asgarov, but the Azerbaijani simply outclassed him in all departments.
Asgarov edged the first period after a single throw, but turned on the style in the second, throwing Kudukhov and pushing him off the mat to secure Azerbaijan's first wrestling gold of London 2012.
America's Coleman Scott and Yogeshwar Dutt of India both won bronze after emerging victorious from this evening's repechage.
Azerbaijan went on to claim their second wrestling gold within the space of an hour after Sharif Sharifov beat Jaime Yusept Espinal of Puerto Rico in the final of the -84kg freestyle.
Sharifov was the favourite to win gold after winning last year's World Championships and he did not disappoint at the ExCeL tonight, seeing off a spirited fight from his opponent to record a 6-1 2-0 win.
Espinal scored a remarkable 37 points en route to the final - far more than any of his rivals - but his inexperience in international finals showed in tonight's showdown.
The Puerto Rican's poor defence allowed Sharifov to throw him twice in the opening period and two simple scores in the second period were enough to seal victory.
The win came shortly after Asgarov won gold in the -60kg category. Prior to today Azerbaijan had won two bronze and two silvers at London 2012.
Georgia's Dato Marsagishvili and Iranian wrestler Ehsan Naser Lashgari won bronze in the category.