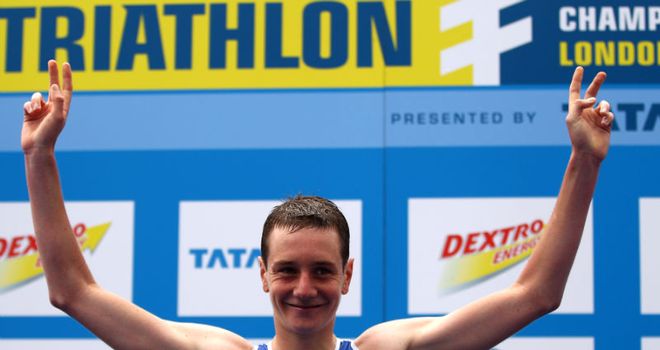 Alistair Brownlee: Ready to race again
Olympic triathlon gold medal favourite Alistair Brownlee admits he came close to quitting during his battle with an Achilles injury.
The 24-year-old has dominated the sport for the past three years, winning two world titles and two European titles, but an Achilles tear in February left him sweating whether he would even make the start line in London.
However, he returns to compete in his first World Triathlon Series race of the season in Kitzbuhel this weekend, hoping to revive his Olympic hopes.
The name Brownlee is expected to be one of the headline-grabbers of the Games from a British perspective, with Alistair's nearest challenger for gold likely to be his 22-year-old brother Jonny.
Alistair admits it has been a difficult few months saying: "There's been lots of moments when I thought I might not make it.
Retired
"Jonny will tell you I've nearly retired about 50 times. It's tough, especially with an injury like an Achilles, where it doesn't definitely get better, there's not a defining moment.
"It's a slow process and some days it feels worse and some days it feels good. It's been a really tough few months.
"Training's been going well the last three or four weeks. Obviously it's not ideal to only have that short length of time but it can never be perfect. I'm getting there slowly and I've still got another six weeks of training to go.''