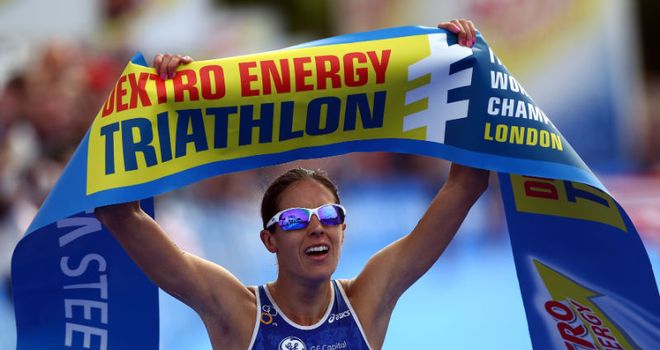 Jenkins: world champion for the second time
Great Britain's Helen Jenkins secured her second ITU world championship title after finishing second in the grand final in Beijing to claim victory in the overall series.
Heading into the grand final, Jenkins only needed to make the podium to clinch her second title and her second-placed finish behind New Zealand's Andrea Hewitt was enough as she finished the season with a total of 4032 points.
Jenkins, who won her first world championship in 2008, joins other double winners such as Emma Carney, Michellie Jones, Karen Smyers and Emma Moffatt.
Andrea Hewitt captured Sunday's race title with a time of one hour 58.26 minutes.
The New Zealander's efforts, combined with the withdrawal of Paula Findlay on the bike stage as well as Barbara Riveros Diaz falling off the pace in the run, saw Hewitt move into the overall silver medal position with 3836 points.
Switzerland's Melanie Annaheim captured her first series medal as she outsprinted her rivals for third in Sunday's race with Sarah Groff's 10th place enough for bronze over the season.
Domination
Jenkins' victory means both the men's and women's world titles are held by British athletes.
Alistair Brownlee was crowned the men's world champion in China on Saturday with his brother Jonathan second in the overall series.
Jenkins said: "I'm so pleased just to win the world champs again, it's amazing.
"It would have been awesome to take the win here, but, at the end I just didn't have it in me.
"Because we had such a big gap I just thought 'keep it steady and hopefully I'll have something left at the end', but Andrea really just had a big kick at the end. I couldn't hang on to her."
British Triathlon's Olympic programme manager Malcolm Brown was impressed by his team's overall performance.
"There have been some outstanding individual performances, and even those who have been having a bad day have flogged themselves for every position. It's been an uplifting experience.
"We have three world champions with Matt Sharp in the Under 23 and the two seniors. It's exactly the sort of position you'd want to be in going into an Olympic year."