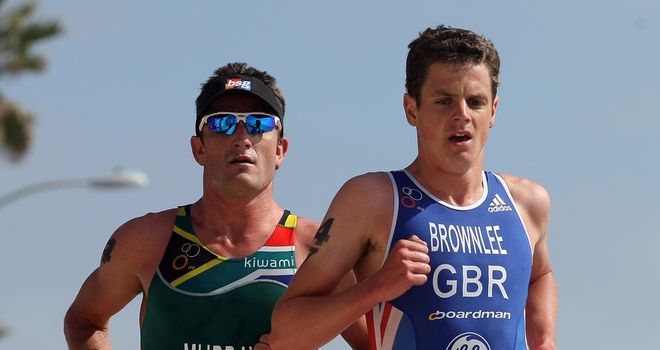 Jonathan Brownlee: Olympic bronze medallist
The Great British triathlon team retained the ITU Triathlon Mixed Relay world title in Stockholm.
The Olympic bronze medallist Jonathan Brownlee teamed up with Vicky Holland, Will Clarke and Non Stanford to overcome tough conditions and win gold.
Holland, Clarke and Stanford were new additions to the team that won in Lausanne last year, but the trio combined to set Brownlee up for a tense finish.
Stanford had moved the British team up to second place behind Germany before Brownlee began the swim with a deficit of 28 seconds.
But the Yorkshireman halved the advantage of Steffen Justus in the water with the German going on to crash twice during the bike race.
Vincent Luis offered Brownlee some stiff competition for the rest of the ride but the Briton was too strong for the Frenchman on the subsequent run.
After crossing the line to claim the world title, Brownlee said: "I swam pretty fast and I knew I had a chance then.
"I wasn't pushing too hard on the bike as Steffen crashed. When he crashed it completely changed things.
"I know my advantage is running off the bike and I knew if I ran as fast as I could then that was all I could do.
"I got a four-second gap and I knew then that I could do it. It's a very exciting event to take part in. It would be great to get it into the Olympics."
A decision on whether mixed relays will be included at the Rio de Janeiro Games in 2016 will be made in September next year.