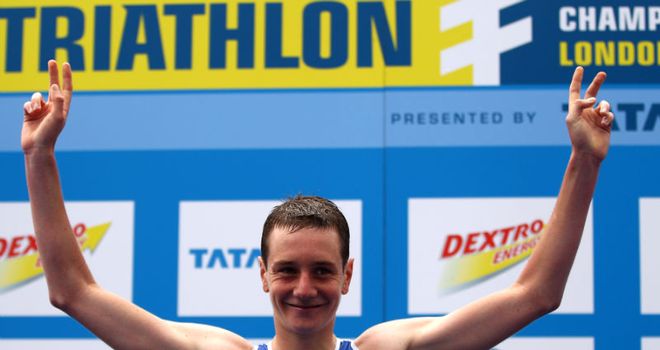 Alistair Brownlee: Ready for triathlon challenge
Alistair Brownlee has three words in response to all his rivals that are plotting to try to find a way to beat him in the Olympic triathlon - bring it on!
The 24-year-old goes into the race as the reigning world champion and unbeaten over the Olympic distance since a race in Sydney 16 months ago when he fell.
It would be a major surprise if anyone else won the gold medal, and the most likely challenger is his brother Jonny, who has been on the podium in all of his last 14 races.
The Brownlees are a sporting phenomenon, and they have the added cushion of knowing the third British team member, Stuart Hayes, is there purely to help them achieve their goal.
It is hard to see anyone really troubling them but New Zealand's Kris Gemmell revealed other nations are preparing to work together in an effort to stop the brothers claiming the top two spots on the podium.
However Alistair is not surprised, and nor is he worried.
"I'm sure other nations have talked to each other to see what they can do and they're obviously worried about what we can do."
Alistair Brownlee Quotes of the week
The Yorkshireman said: "I'm sure other nations have talked to each other to see what they can do and they're obviously worried about what we can do.
Fresher
"All we can do in the race is go out and try our best and, to be honest, doing that would be more high risk for them than it is for us. We just have to go out and do what we always do.
"At the end of the day, they know that when they get to the end of the bike they have to have a lot fresher legs than me or be in front of both of us in the race, so if they want to try it, let them."
Things have not gone entirely smoothly in the build-up for the elder Brownlee, and he feared he might miss the Games altogether as he battled to recover from an Achilles tear suffered in February.
His first race in the World Triathlon Series this season did not come until June in Kitzbuhel, when any fears about his fitness were brushed aside as he destroyed the very strong field to win by almost a minute from Jonny.
There has been much talk in the build-up about whether Alistair and Jonny might try to cross the line together, but they would be split on a photo finish, as happened in the women's race on Saturday when Switzerland's Nicola Spirig won gold ahead of Lisa Norden of Sweden.
Alistair added: "Me and Jonny haven't talked at all about the potential result and we haven't talked about beating each other. It's the great unmentioned I think.
"If we are sprinting for the finish, we'll be going as fast as we can because we're very, very competitive so it'll be brilliant to watch."