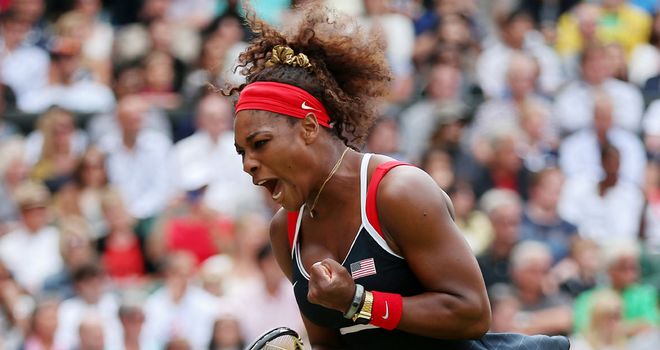 Serena Williams: Easy win over Sharapova
Serena Williams continued her amazing form by beating Maria Sharapova in straight sets to win gold.
The 14-times grand slam winner only dropped one game in the women's final at Wimbledon, meaning she has only lost 17 in the entire tournament.
Wimbledon champion Williams, who is now on a 17-match winning streak, won the first set 6-0 and the second 6-1.
The 30-year-old had won the last seven matches she played against Sharapova.
Williams finished the match with two aces, asserting her utter dominance.
Her victory today matched her 6-1 6-0 win over another Russian, Vera Zvonareva, in the third round.
She jumped up and down with delight as she clinched the Olympic title.
The American, 30, has lost just five games in the three Olympic finals she has won: 2000 Sydney doubles, 2008 Beijing doubles and 2012 London singles.
Sharapova, 25, was competing in her first Olympic Games and received enthusiastic support from the crowd.
One fan shouted: "Maria, I still want to marry you'' as defeat looked imminent.
Record
Williams is the first person to win the golden slam in both singles and doubles, and the first person to do it in singles since Steffi Graf won all five titles in 1988.
If she and her sister Venus win the doubles competition, they will both have four gold medals, which no-one else has achieved before.