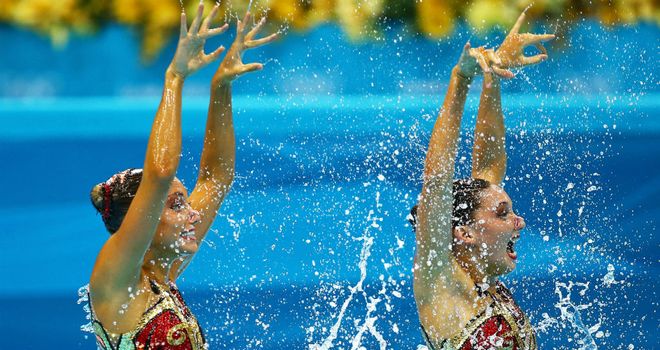 The British pair: Ninth after the first day of qualifying
Britons Jenna Randall and Olivia Federici are well placed to reach the final of synchronised swimming's duet event after finishing the first day of qualifying in ninth place.
Their technical routine, which involves performing pre-determined elements that must be executed in a specific order, earned them a score of 88.100 points, improving one place on their showing at last year's World Championships.
The second qualifying round - the free programme - takes place on Monday. The British pair will need to be in the top 12 overall after that to make the final.
Three-time Commonwealth silver medallist Randall, who finished 14th with Federici at the last Games in Beijing, was pleased with the scores they had been awarded.
"(I'm) very happy," she said.
Odds-on
"We haven't been able to get 88 in the tech routine for a while now so it was great to do that.
"We're ahead of the people we wanted to beat at this competition so far so we're hoping to keep that up for tomorrow."
Russia look the ones to beat, scoring 98.200 out of a possible 100. They lead from China and Spain.
Natalia Ishchenko and Svetlana Romashina are odds-on to maintain Russia's place at the pinnacle of the sport, having been both duet and team champions since Sydney 12 years ago.