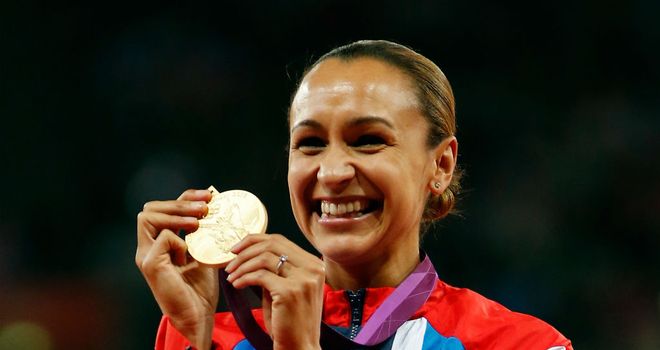 Jessica Ennis celebrates after receiving her gold medal at the Olympic Stadium
Britain's Jessica Ennis won the gold medal in the Olympic heptathlon with an emphatic victory in her 800m heat.
Four years after reluctantly watching the Beijing Games on TV following a career-threatening foot injury, Ennis made light of the weight of expectation on her shoulders to leave her rivals battling for silver and bronze.
Three personal bests in the previous six events meant Ennis went into the final discipline, the 800m, with a commanding 188-point lead that equated to a 13-second advantage over Lithuania's Austra Skujyte.
A run of two minutes 5.69 seconds would have seen Ennis become only the fourth woman in history to score 7,000 points, and even though there was no need for such heroics, the 26-year-old from Sheffield blasted through the opening lap on her way to victory in 2:08.65.
Russian world champion Tatyana Chernova claimed silver with 6,628 points, with Ukraine's Lyudmyla Yosypenko taking bronze in a personal best of 6,618.
Ennis' time was outside her personal best but still enough for a new overall PB of 6,955 points to improve on the national record of 6,906 she set earlier this year.
Russia's Tatyana Chernova, who took Ennis's world title last year, claimed silver a distant 327 points behind, with Ukraine's Lyudmyla Yosypenko taking bronze a further 10 points back.
Sensational
Ennis, who follows in the footsteps of 2000 champion Denise Lewis, had fittingly ignited the athletics programme with a sensational performance in the opening discipline on Friday morning, her 100m hurdles time of 12.54s not only a British record and personal best but also the same as that which won individual gold in Beijing.
A high jump of 1.86m was marginally disappointing and she briefly lost the lead following Skujyte's heptathlon world best of 17.31m in the shot, but another personal best of 22.83s in the 200m gave Ennis her biggest first-day score of 4,158 points and a lead of 184.
The second day brought an excellent 6.48m in the long jump - a source of concern over no-jumps just six weeks earlier - before yet another personal best of 47.49m in the javelin effectively sealed the win.
"I am so shocked I can't believe it," a tearful Ennis said. "After the javelin I didn't let myself believe it.
"After all the hard work and disappointment of Beijing, everyone has supported me so much. They said 'go for another four years', and I've done that.
"I'm going to savour the moment. I've had great support although I've been under a huge amount of pressure."