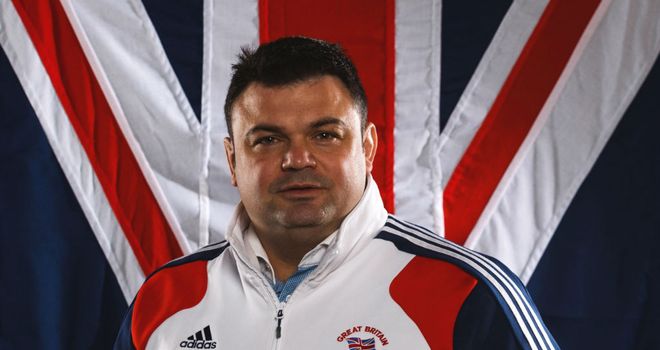 Daniel Lascau: Hoping to win at least a medal in this summer's Games
Performance director Daniel Lascau has challenged his Team GB judo squad to inspire a generation by winning an Olympic medal in London.
"We will go to London with 14 athletes, and I believe this team does have the potential for at least one medal and also two top-eight places."
Daniel Lascau Quotes of the week
Britain will send a full quota of 14 fighters across all seven weight categories for both men and women at the 2012 Games.
However, judo has failed to deliver Olympic success since Kate Howey won silver at Sydney in 2000.
Making the podium would be significant achievement in itself for the British Judo Association, who took the radical action of replacing their elite coaching staff following a disappointing World Championships in Paris last summer.
Romania-born Lascau is a former world gold medalist and competed for Germany at the Barcelona Olympics in 1992.
The Team GB chief has confidence the likes of Scottish half-middleweight Euan Burton, veteran heavyweight Karina Bryant - a European bronze medalist earlier this year - in-form Gemma Howell and Colin Oates, who finished a squad-best fifth at the worlds, can produce the goods at the ExCeL in a few weeks' time.
Potential
"We will go to London with 14 athletes, and I believe this team does have the potential for at least one medal and also two top-eight places," commented Lascau.
"To win a medal will be a huge performance. If we look back at the last two Olympics, Britain has no medal record.
"Now, to do it in London would show that even though we changed the management system in the last 10 months of the preparation, judo has moved forwards.
"Of course an Olympic medal is important for the BOA and UK Sport, but it is also important for a lot of young kids who are watching their idols and want to be one of the champions in the next Olympics."
Lascau added: "It is a big challenge after the World Championships last year without a medal, and also after the Europeans where we only had one bronze.
"But we are at home, so we have to fight our best competition and to take that home advantage to win this one medal in the Olympics."
Confident
Norfolk fighter Oates has enjoyed a breakthrough in the under-66kgs division, where he just missed out on a bronze medal at the 2011 World Championships.
The 29-year-old is confident he can continue his progress with a strong display in London.
"These last couple of weeks will be about trying to get the focus in on the small things, heading towards getting that medal at the Games," Oates said.
"I had a great 2011, and have been starting to push on this year to help me create new little things that when I get to the Games will make me able to pull out that performance.
"It will still take something special for me to win a medal, but I feel I have the ability to do that now."