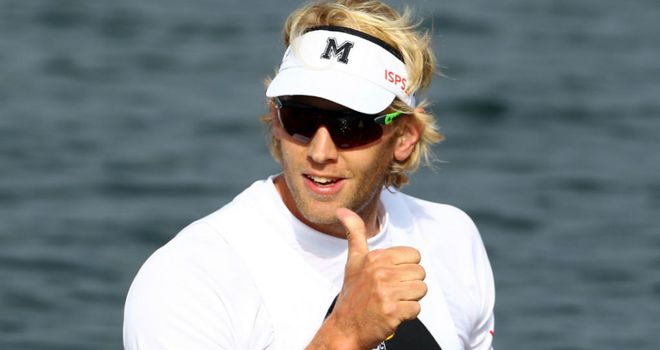 Andy Triggs Hodge: The GB rower was one of the surprise changes after moving from the pairs to the men's four.
Great Britain's rowing team have changed an incredible 10 of the 14 Olympic class crews from last year's World Championships.
Only the men's single scull, women's double sculls, women's pair and men's lightweight double sculls remain the same as last year's showpiece in Slovenia, where Britain topped the medal table.
The biggest surprise sees Pete Reed and Andy Triggs Hodge - who have raced as a pair for the last three years - moved to the men's four.
Alex Gregory and either Tom James or Alex Partridge will complete the team once they have finished testing.
Comeback
World Champions in 2011, Ric Egington and Matthew Langridge, have moved from the four to a strengthened eight that will be stroked by 20-year-old Constantine Louloudis.
Greg Searle is also in the eight and now on the verge of completing a remarkable Olympic comeback, 20 years after winning gold at the 1992 Games in Barcelona.
"This is a very big day for the GB Rowing team. "
David Tanner- GB Rowing performance director Quotes of the week
Britain have named the squad for the first of three World Cup regattas, in Belgrade at the start of May, but GB Rowing performance director David Tanner confirmed it will be the basis for Olympic selection.
He said: "This is a very big day for the GB Rowing team.
"It's the start of the most important season any of the teams have experienced. It's a thrilling season for us and the rowers.
"I have absolutely no doubt that what we are showing will be the best team in depth and stand that Britain has put out on the water.
"Inevitably there will be some tweaks but what you see today will be the basis of our Olympic team."