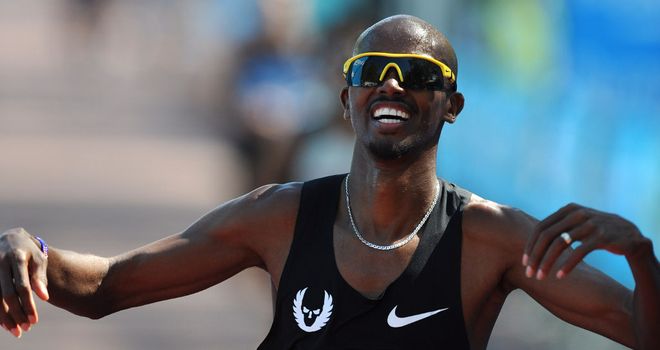 Mo Farah: Successful title defence in Finland
Mo Farah continued his fine pre-Olympic form as he comfortably retained his European Championship 5,000 metres title in Helsinki.
Reigning world champion Farah led at the bell and was never going to be caught as he powered to victory in 13 minutes 29.91 seconds.
That was more than 30 seconds slower than his world-leading time in 2012 set in Oregon earlier this month, but the gold medal was all that mattered and proved once again that the 29-year-old has matured into a superb championship athlete.
Running his penultimate 5,000m before the London Olympics, Farah was content to sit at the very back of the field for the opening 600m before slowing moving through the pack.
With eight and a half laps remaining he and Turkey's Kemboi Arikan finally began to close the gap on Russia's Anatoliy Rybakov, who had been allowed to open a lead of around 40 metres, and with five laps remaining Farah had hit the front.
That was where he stayed until the bell signalled a last-lap sprint for glory, Farah gradually pulling away from the field to win by almost two seconds from Germany's Arne Gabius, with Arikan claiming bronze.
"I knew training has been going well and I recently ran 3:34 for 1500m so I had good speed, but you always have to respect the opposition and I had to work hard and make sure I had a bit left towards the end so I could kick again," Farah said.
"The race went well, the reason I went to the front early on was because there were too many guys there, we were running very slow and off that anybody could kick.
"I wanted to run fast (for the last lap), someone told me it was 53 seconds, but my aim was to run hard without pulling anything."