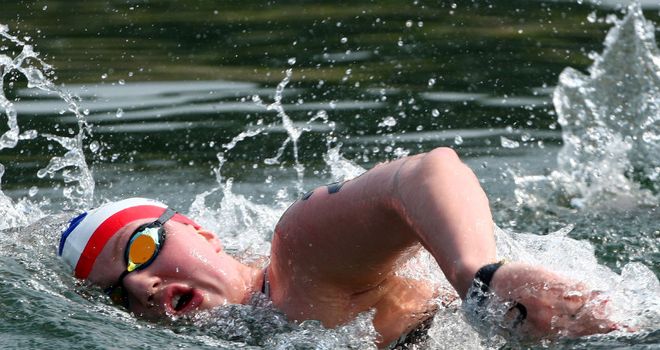 Cassie Patten: Quit the sport last summer and had a six-month period without swimming
Cassie Patten has admitted that she became "depressed" with post-Olympics life, and even shut her medal from the Beijing Games away in a drawer.
Patten took bronze for Great Britain four years ago in the 10km open water swimming marathon. However she was forced to quit her sporting career just months before the 2012 Games due to a niggling shoulder complaint, as it seriously hindered her ability to compete at the highest level.
The swimmer from Cornwall said: "Now I am proud of myself, I have allowed myself to be happy with my medal.
"When you come home from an Olympics, it's like coming home from a school camp. You go from being in this village full of incredible people, you see the Williams sisters (American tennis stars Venus and Serena) - you're in this bubble of having the best time, to coming home. Yes, I'd won a medal, but everyone gets the post-Olympic blues."
The 25-year-old is now working at Lux Park Leisure Centre in Liskeard, Cornwall, which is where she learned to swim as a youngster. She has plans to start her own sports training business and is also coaching adult swimmers.
However, the swimmer admits there was a cloud hanging over her at the start of the four-year gap between Olympics.
She added: It's always difficult the year after the Olympics because four years (until the next Games) is such a long time.
"Training is so hard. People see you on the podium, but they don't see you at 4am scraping ice off your car. They don't see you when your friends are all going out and you're having to stay at home because you're training.
"I am not complaining because that's something, as athletes, we choose to do. But to go from this humongous high into the mundane and really hard work as life as a professional athlete, it's hard."
Petrified
"In the year after the Games, I felt lost. I got really depressed, I was really unhappy. I would come swimming and just sit on poolside and just cry. It was horrible because I loved swimming. It was a difficult time."
Patten quit the sport last summer, and even had a six-month period without swimming.
"Now I am proud of myself, I have allowed myself to be happy with my medal. "
Cassie Patten
She continued: "I was petrified (of quitting swimming), of losing the one thing in my mind that I was good at. A lot of sports people really struggle, you see them when they come out of retirement and they are so lost - they feel like failures. And so I didn't swim for a very long time (after retirement)."
The swimmer has returned to the pool since though and was pleased to be involved in the London Games, where she worked as a television pundit for Sky Sports.
"I was very proud of London. A lot of people wondered if it would live up to the expectation, if London would be able to deliver. Beijing was incredible, but it never touched London in terms of the atmosphere," she said.
"London was a sporting spectacle; it wasn't just a sporting presence. It was an Olympics for everybody, not just dedicated sports fans."