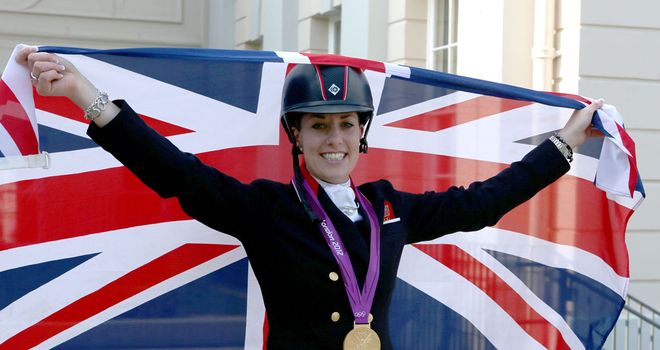 Charlotte Dujardin: Life after London 2012 is proving difficult for the golden girl
Charlotte Dujardin, the Olympic dressage champion, admits coming to terms with life after London 2012 and the probable sale of wonder-horse Valegro is "the worst feeling".
Dujardin has taken the sport by storm during an astonishing 18-month rise from obscurity to world number one, via two Olympic gold medals, a European team title and a world record.
However, she now faces a period of consolidation on the road to next year's Europeans, 2014 World Equestrian Games and the Rio Olympics in 2016.
"It is one of the hardest things I've had to deal with."
Charlotte Dujardin Quotes of the week
Valegro, co-owned by Great Britain team-mate and Dujardin's mentor Carl Hester and Roly Luard, is rated by many in the £10million bracket following his spectacular successes at Greenwich Park seven weeks ago.
After keeping the horse for 27-year-old Dujardin to pursue Olympic glory, a parting of the ways now appears likely with big-money offers set to be offered. However, contrary to some reports the horse has not yet been sold.
Sensational
Dujardin said: "I have started riding Valegro again following his post-Olympics holiday. I have to thank Carl and Roly for keeping the horse for me for the Olympics and being able to do what I've done on him. Who knows? Someone might come along, buy him and keep him for me.
"It will be very sad if he goes, but that is something I have to deal with.
"It's going to be hard to ever have a horse to replace Valegro. He is a professor. I think he read the dressage book and learnt it all before he ever did it.
"The power he has is sensational, and his mentality and desire is so special. There were 24,000 people watching at Greenwich, and he just took it all in his stride. He loves the limelight."
Testing phase
Dujardin's spirit, talent and determination to succeed are such that it would be no surprise if she arrives at the European Championships in Denmark next August as a major medal contender.
She is also fully aware though, that the next few months promise to be a testing phase of her career.
She added: "I've had so many goals that I wanted to achieve. I wanted to ride on the same British team as Carl, I wanted to do the Europeans, Olympia and the Olympics, and I've done it all in 18 months with a world record in-between.
"The Olympics are now all over, I've got the possibility of Valegro being sold, and it is the worst feeling.
"It is one of the hardest things I've had to deal with. I have got other horses that are up and coming, but at the moment it feels really tough.
"I have done everything I wanted to do in the space of 18 months, so I kind of think 'what do I do now?'
"There is Rio in 2016, but it won't be the same as going to London and hearing 24,000 people - nearly all British - cheering, stamping their feet and screaming your name.
"I can honestly say I had the time of my life in London. I don't regret one part of it, and I have never wanted the moment to end."
Unforgettable
Now almost two months on from her team and individual triumphs at Greenwich, Dujardin revealed that she was reduced to tears when she first watched her stunning gold medal freestyle routine.
It was a performance that earned Dujardin a score of 90.089%, giving her a third Olympic record in three rides during an unforgettable week.
She added: "It made me cry when I watched it back. It was such an emotional feeling.
"It was the goal I always wanted, but even when I watched it back with my mum I said to her 'I can't believe I've done what I've done'
Whatever happens in the coming months, Dujardin is ready to meet the challenges ahead and continue doing everything she can to keep British dressage in the sporting spotlight.
She concluded: "I've had grown men who had no idea about dressage saying to me 'you are the girl off the dancing horse at the Olympics that brought me to tears'. The amount of people who sat and watched it all was amazing.
"I am so glad we got the sport out there, and hopefully we will now get more people behind us and maybe a few more sponsors. It has all been so surreal, especially being called the 'golden girl'. That is really weird."