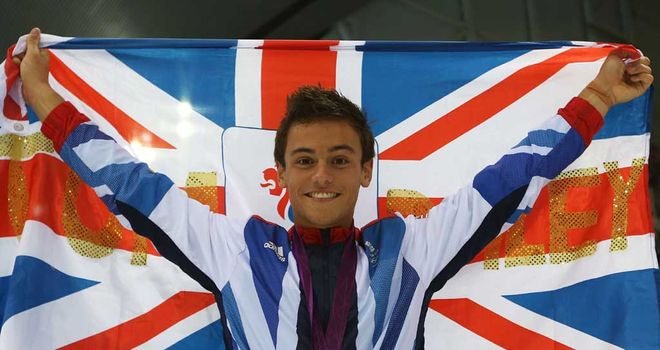 Tom Daley: Has ambitions to work in the media
Flashing bulbs from spectators' cameras may have threatened to derail Tom Daley's quest for Olympic glory, however the young diver insists he would embrace the bright lights of Hollywood should the right offer become available.
The 18-year-old famously requested a re-dive during the final of the men's individual 10m platform at the London Games last month, after he was distracted by camera flashes as he performed his crucial first dive.
"Film work, I'd love to do anything like that. "
Tom Daley Quotes of the week
Spectators subsequently observed a no-photos request from organisers, allowing Daley to dive his way to the bronze medal, much to the delight of the partisan crowd inside the Aquatics Centre and his legion of fans across the country.
The media-friendly teenager - whose Twitter page is regularly sprinkled with photographs of him alongside A-list celebrities - insists he is ready to listen to television and film offers following his London 2012 success.
TV presenter
Speaking ahead of a homecoming parade in his city of Plymouth on Wednesday, Daley, who recently returned to college to complete his A-levels in maths, photography and Spanish, said: "At the moment I am studying, but I would like to become a TV presenter or something along those lines.
"Film work, I'd love to do anything like that. I would love to try anything new really, be it star in a film or playing a small little part in something like that - that would be pretty cool.
"I am using these subjects (A-levels) to maybe get me into university, some sort of degree. I don't really know what I want to do yet but I will be thinking about that over the next year.
"I enjoy doing the media work; it is something I would enjoy going into in the future... maybe producing or being the presenter."
Glamorous
Daley was recently pictured at the wedding of Gavin and Stacey star James Corden alongside famous faces including Australian pop star Kylie Minogue and British teen chart favourites One Direction.
Daley added: "It is crazy the opportunities that the Olympics and diving have given me.
"I have worked so hard from such a young age. Everyone sees the glamorous side of sport and think it's all glamour - you go to all these awards ceremonies, you go to all these nice functions and things.
"But the amount of hours and hard work and gruelling exercise that you have to put in to get to the stage of going to the Olympic Games, winning medals - all the fun stuff comes after that.
"Whenever you meet someone famous, it is always that feeling of 'What do you say?' You don't feel like you are worthy of going over to speak to them because you see them all the time on the TV and the newspapers.
"But you kind of have to go there and be yourself because they are actually pretty normal too.
"Kylie (Minogue) was really nice actually, really short - about five foot or something. We just chatted about random things."
Asked if his ambitions for a career in the media extended to a career in pop music following his recent introduction to the singer, Daley joked: "I don't think so, not that I'm aware of... but you never know."
He said he enjoyed the London Games yet had no desire to leave his home city for good, adding that his next long-term target would be the 2016 Games in Rio de Janeiro, Brazil.