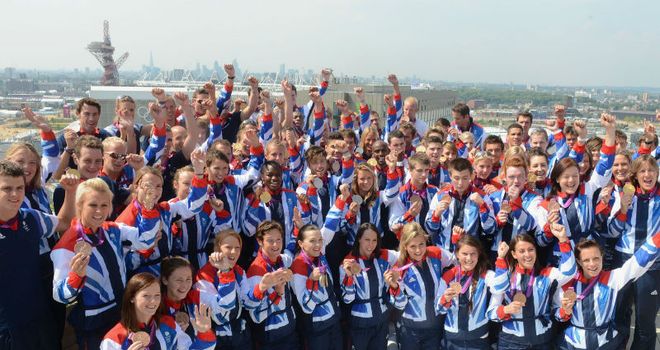 Team GB: Inspiring a generation
Great Britain is keen to build on the London 2012 Olympics and the bid to provide a lasting legacy has already begun with a number of sporting initiatives such as 'Join In Local Sport', being held this weekend.
Seb Coe has always pressed home his desire to provide a lasting sporting legacy by staging London 2012, and on August 18 and 19 that will begin with local sports clubs opening their doors and trying to welcome in new hopefuls.
Focused on celebrating sport where it began for all great champions, their local sports clubs, 'Join In' will see over 5,000 events take place up and down the country as sports clubs everywhere open their doors and host activities, giving millions of people who have been inspired by the Games their first opportunity to translate this into participation by turning up, taking part and joining in sport whether as a participant or a volunteer.
It will also mark the first time for local sports clubs to translate enthusiasm sparked by the success of the Games into a sports participation legacy, with the event coming on the first weekend after London 2012.
With events covering more than three dozen sports, from cycling to swimming, and gymnastics to athletics, via karate and canoeing, there will be something for everyone to engage in no matter what their sporting interests, age or sporting ability.
The weekend has Royal backing from His Royal Highnesses, The Duke of Cambridge, who said: "The incredible achievements of Team GB at London 2012 would not have been possible without the work that goes on at sports clubs up and down the country to forge the athletes of the future.
"Join In UK will provide thousands of people a chance to volunteer in their local club or even try - for free - a sport that may be new to them and to experience for themselves, at whatever level of ability, the joy that sport can bring.
"Harry and I are delighted to hear that Join In now has over 5,000 events signed up. We encourage as many people as possible to take advantage of this incredible summer of sport by joining in at a local participating club on the weekend of 18th and 19th August.
"We hope that Team GB's successes will inspire many people to fulfil their potential."
With Prime Minister David Cameron also backing the weekend, the likes of sporting icons Daley Thompson, Sharron Davies and Jonathan Edwards are also involved as they will visit as many sports clubs as possible and will be joined by current Olympians.
People interested in finding out about a 'Join In Local Sport' event near them should go to www.joininuk.org where they can enter their postcode and search for events in their local area.
Click on the links for more information on Sky Sports initiative Living for Sport or our Get Involved series