With the Olympics now over, Sky Sports caught up with Liam Tancock for a London 2012 debrief about the GB swimming team's fortunes and his hopes for inspiring future athletes.
London 2012 provided a unique atmosphere for everyone - supporters and athletes alike - and Tancock says it is now strange getting used to the fact that he was part of such an historic event.
Tancock was touched off into fifth place in the 100m backstroke, but as a 50m specialist he has improved from Beijing and is now already focusing his attentions on succeeding in Rio.
"It's quite surreal now it's all over," Tancock told Sky Sports. "I've been back to Loughborough after leaving the athletes village but now I'm back in London just getting used to it all.
"Seven years ago we knew the Olympics would be held in London and it's four years since Beijing, but all of a sudden it's all over so it's on to the next one now - Rio here we come I guess.
"It was an amazing honour and a tremendous experience for all of us British athletes to compete at a home Olympics and of course I enjoyed the moment, but I'm always looking forward in my career so I'm really excited about the future.
"The 50's never been an Olympic event, I've heard rumours over the last few Olympics that they might put it in there so who knows it might be in Rio, but I'm not holding my breath. I came fifth in the 100m and fourth in the relay so I'm improving one step at a time."
Targets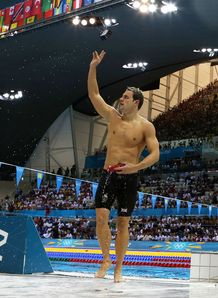 Liam Tancock soaking up the Olympic atmosphere
British Swimming came in for some criticism for not delivering the medal target it was set, while other sports such as cycling and rowing excelled and even athletics delivered four golds.
Team GB did get more people in swimming finals than ever before though, with only the USA, who dominated, and Australia supplying more swimming finalists, and with the margins so small Tancock insists they are heading in the right direction.
"If people actually look at the bigger picture of swimming we actually did really well, but we just didn't get the medals we perhaps deserved. A lot people put in a lot of hard work and we'd have loved to have seen some fantastic results.
"But we actually made more finals than we ever have, we were third on the finals table behind USA and Australia, massive nations within swimming. And there were a few people who missed out by a few tenths, even hundredths, of a second so it was close - it was tough but that's swimming.
"The stuff we're doing now is a result of our system set up by British Swimming about ten years ago, and if it all continues like it is going then there should be good things to come in Rio, so we just need to carry on what we're doing and it's exciting times for British Swimming in the future.
"What we're doing is the right thing. The thing with swimming is you don't get good overnight, you have to train for most of your life really to become truly elite at it. There were so many people who had such small margins between the best swimmers in the world so there's always going to be someone who misses out.
"This time it was us who missed out on the medals but on a different day it could have been us picking up those medals, but you can't sulk about it, we have to keep working and it could be us in the next four years."
Inspiration
'Inspire a generation' was the Olympic tagline for London 2012, and getting more people into sport has always been a big motivation for Tancock throughout his career.
Just minutes after his Olympic final swim he was talking to the media about inspiring more people to get involved in sport - and he is doing that in a number of ways including a scheme run by Gillette to offer funding for prospective coaches to get qualifications.
"What Team GB has done has been great for British sport, we are talking about inspiring a generation. I spoke about this directly after my race - without the support of my coaches neither me nor anyone from Team GB would have done what they did, so team GB can be grateful for that.
"So that's why I wont to be involved in something like this, people are inspired and people do want to get into sport and we need the coaches there to help them be as good as they can be.
"I've had tweets left, right and centre from people saying they or their kids have just got into swimming, so to see someone in the future pick up a medal having been inspired by me to take up swimming, to me that'd be better than the Olympics, that would be just amazing.
"I've genuinely got a passion for getting people into sport, not just at elite level but even just to keep fit and healthy, and it's brilliant to see people get excited about sport like they have been over the Olympics."
'Gillette is offering to fund coaching qualifications for men across the UK as part of the 'Great Starts' campaign. To apply for a coaching grant visit Facebook.com/GilletteUK'