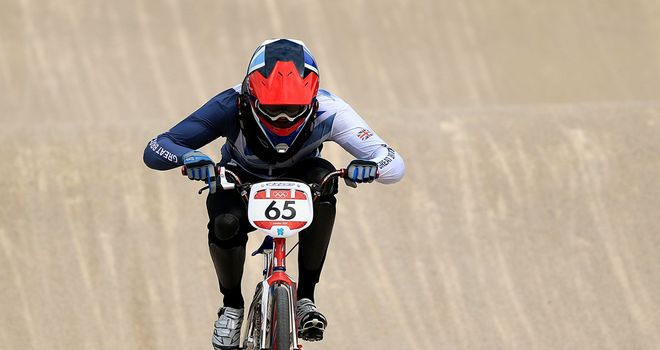 Liam Phillips: Placed 12th in seeding
Liam Phillips described his first competitive ride at the Olympic Velopark as "mind-blowing" after qualifying 12th for Thursday's BMX quarter-finals.
The 23-year-old from Burnham-on-Sea bounced back from the broken collarbone he sustained at World Championships in May to qualify in 38.719 seconds as Raymon van der Biezen of Holland advanced in first place in 37.779sec.
After his ride, he said: "This is what I wanted. I like riding on the track, but it didn't float my boat.
"This is where I belong. Whatever happens in terms of results, I'm here to enjoy it and to have 6,000 people that have paid to come and watch a sport that I've done since I was five years old is mind-blowing."
Phillips was drawn in the second quarter-final heat, with five runs to determine whether he will advance to Friday's semi-finals.
The Somerset rider was satisfied with his ride and believes his form is good despite the shoulder problem.
Good shape
"It's not great, but I've never really had any exposure to 6,000 people screaming your name," said Phillips of the qualifying ride.
"It's a good start, but I'm looking forward to tomorrow.
"I'm in good shape. The race to the first turn, that's the most important part and that part of my lap's better than it ever has been, even at the world champs.
"It's pretty scary to come off the back of an injury and be going faster than you were at the world champs 10 weeks' ago.
"That's certainly the case in my book, but in BMX anything can happen, it'll be a lottery."