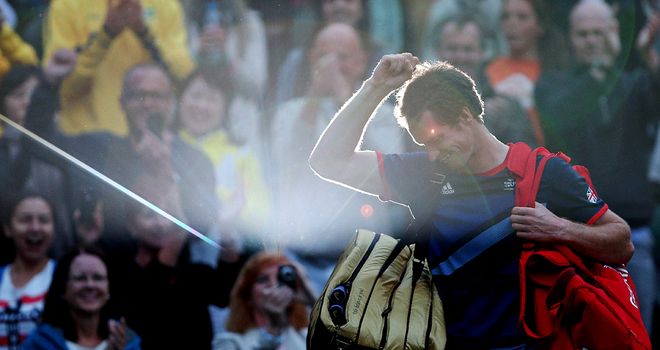 Andy Murray: Can he win two Olympic golds?
Andy Murray hopes taking Roger Federer into new territory can help him achieve a different result when he goes for Olympic gold in the men's singles final on Sunday.
The match takes place exactly four weeks after Federer ended Murray's hopes of a first grand slam title on Wimbledon's Centre Court and left the Scot distraught.
Murray has bounced back superbly from that disappointment and produced one of the best performances and results of his career to beat Novak Djokovic 7-5 7-5 in the semi-finals in front of a raucous and partisan crowd.
He also gave a stunning mixed doubles performance alongside Laura Robson as the duo thrilled the Centre Court crowd by reaching the Olympic final.
The pair pulled off a brilliant victory over Germans Christopher Kas and Sabine Lisicki in a champions tie-break, going through 6-1 6-7 (9/7) 10-7.
Saturday's thrilling victory with Robson now means that by the end of Sunday the Scot will be the proud owner of two Olympic medals.
Revenge
The singles encounter will be a first Olympic final for Murray, and perhaps surprisingly a first singles final for Federer, who won men's doubles gold with Stanislas Wawrinka in Beijing four years ago.
Murray said: "I don't think going into a match thinking about revenge for something that's happened in the past really helps. I need to focus on the future.
"I don't think going into a match thinking about revenge for something that's happened in the past really helps. "
Andy Murray Quotes of the week
"The one thing I hope on Sunday, he's not played for the gold medal in singles before and most times when I've played him he's experienced the situations way more times than me.
"He's played eight Wimbledon finals and it was my first one. It's so rare for him to be in a position where he's trying to do something new.
"I hope that will even things out a bit but it's going to be a tough match, obviously, and I'll need to play great tennis to win."
Thrilled
Federer has never won an Olympic singles medal but he guaranteed that will change this year by edging out Juan Martin Del Potro 3-6 7-6 (7/5) 19-17 in a remarkable contest.
Among the motivating factors for Murray was his failure in Beijing, where he lost in the first round, and he is thrilled he will contribute to Great Britain's medal haul, but he is not finished just yet.
The Scot said: "Coming into the semi-finals, when you have Djokovic, Roger, Del Potro, there was definitely no guarantees of winning one (a medal), so to get through and do that is great. That's what I wanted to try to achieve before the tournament started.
"But now I'm in the final, I've got a chance to win a gold medal, and I won't have that chance again for at least four years so I'll give it everything I can to try to do that."